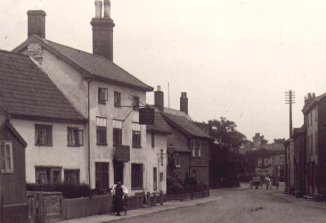 c1920

Meeting place for overseers
31st December 1733, 5th May 1740 and 9th February 1741.

In June 1839 an association of Chartists was established in Harleston but they refused use of the Two Brewers to hold their meetings by the landlord, Robert Mason and threats from the magistrates.

In March 1841, Walter Mason (a relation of Robert?) was reported to have said
"The Charter - the Charter soon, soon must be law!"

In 1844, Lloyds Weekly Newspaper reported that `A history of the Chartist Movement, in manuscript, written by Walter Mason, of Harleston, was received and it is the intention of the Marylebone Chartists to publish it in weekly numbers'.

Last licence granted 13.02.1959.

Does not appear in 1964 listing.

For sale as private house 1995 - described as Grade II listed, part 16th century, part Georgian and part Victorian.