Licensees :
-
FRANCIS RUST
1794
-
WILLIAM BOND
Died 15th October 1803
to 1803
-
Mr. OGDEN
1818
-
DANIEL YOUNG
1836
JOHN BARTON
age 48 in 1851
& carpenter
1841 - 1860
WILLIAM HOWLETT
& blacksmith
1863 - 1865
COOK MURFOOT
& butcher & dealer
1868
FOREMAN HOWLETT
*1869
COOK MURFOOT
& butcher & dealer
1872
CHARLES HOOTON
1875
GEORGE STEBBING
1879
ANTHONY NEWELL
1881
WILLIAM WARD
& butcher
1882 - 1883
JAMES JARVIS
1885 - 1891
WILLIAM NEWELL
1892
JAMES ROBERT TANN
1894
ROBERT SUCKER junior
1896 - 1898
JAMES ROBERT TANN
1900 - 1904
BENJAMIN NEAL
1908 - 1910
ERNEST WOODWARD WEBSTER
Age 36 in 1911
17.01.1910 -
to at least 1912
SPENCER GEORGE MILLS
(George Spencer Mills 1915)
by 1915
WILLIAM CLIFFORD COX
19.07.1926
ROBERT HENRY MATTHEWS
02.01.1928
FRANK WILLIAMS
09.03.1950
-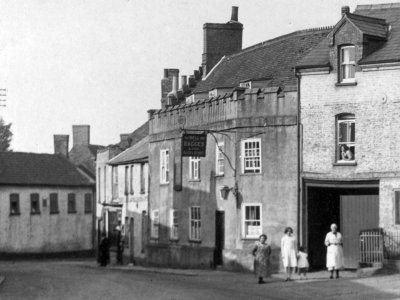 c1920



For Sale by Auction Wednesday 17th April 1844 with 3 Acres of Land.
In full Trade, in which a lucrative business had been carried on for many years, containing a capital kitchen, tap-room, bar, two parlours, large dining room, back kitchen, cellar, five excellent bed-rooms, four attics, scullery, &c.
Mr. John Barton in occupation, including 3A 1R 10P of Arable and Pasture Land, with Notice to Quit at Michaelmas 1844.
Two other Lots totalling 26 Acres of Arable Land available in the Auction


On Monday 31st July 1882 William Ward was accused of allowing drunkenness on his premises. P.C. Allcock had entered the house at about eight o'clock on the evening of 15th July and found Thomas Porter, of Southery, very drunk and using bad language. At about ten o'clock the constable saw Porter being put into a cart by Ward.
It was heard that Porter was already drunk when he entered the house at about seven o'clock. He was only served pop and soda water whilst he was at the Bell. A witness stated that he had seen Ward drinking something like ginger beer.
Case dismissed.