Licensees :
-
WILLIAM CUTTING
1845 - 1847
WRIGHT SMITH
age 52
& farmer
*1851
WILLIAM DOE
& farmer
1854 - 1858
MARY ANN DOE
& farmer
(68 acres 1871)
1861 - 1881
Mrs REYNOLDS
& farmer
1883
Mrs REYNOLDS & Mrs WOODS
(Susannah B Reynolds & farmer 1891)
1888 - 1892
ROBERT CLAYDON / CLAYDEN
1896 - 1900
WILLIAM WRIGHT
1904
WILLIAM R DEACON
1908
LOUIS THAIN
1909
CLARK FREEMAN
proprietor
Age 63 in 1911
1911 - 1912
DIXON STANDALOFT
1916 - 1922
HENRY MONTAGUE
1929
P. R. H. A.
1933 - 1937
-
FREDERICK HENRY JOHN DREW
by 02.1950
VIOLET MARY DREW
30.06.1958
HARRY SALTER
19.10.1959
TIMOTHY ROLAND RAYNER
05.06.1967
-
GRAHAM EVES
Manager
2014
ADAM CHAPMAN
Manager
2016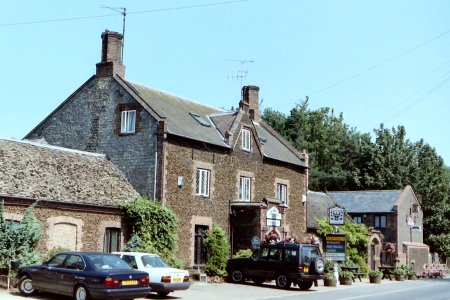 August 1996

Dates from c1700

~

John Utteridge was accused of entering the house of William Cutting on the night of 5th December 1845 and of stealing a fourpenny piece and up to 2/6d in copper coins.
The accused lived in a house that adjoined the cart-shed, in the yard of the Ffolkes Arms. He had a club foot.
Police officer William Newstead investigated and saw several footmarks in the yard. One appeared to be a shod foot, which had been bound over by a milk-strainer.
It was claimed that the marks had not been seen the previous day.
The Judge gave his opinion that the case was based upon suspicion and flimsy evidence. The jury returned a verdict of not guilty.

~

The Lynn Advertiser of 6th August 1909 reported that the house was being upgraded from public house to hotel.
On the 20th August 1909, proprietor Louis Thain advertised that the house had been Redecorated and Furnished throughout, and Visitors would find it one of the most comfortable in the district.
First Class Catering. Moderate Charges.
Good Stabling and Motor Accommodation.

~

Trading today as the Ffolkes Arms Hotel
following extensive renovations and addition of accommodation and function rooms.