Licensees :
JOHN LACK
Age 40 in 1841
Died 1846
1839 - 1846
HANNAH MARIA LACK
age 40 in 1851
(Hannah Lack & Son 1869)
1850 - 1871
ROBERT ALLEN LACK
1872 - 1881
Mrs AUGUSTA LACK
1883
GEORGE YOUNG SMITH
1888 - 1892
HUGH De IMQUET COLLINS
by 1903
HENRY GEORGE READ
13.05.1903
ARTHUR WILLIAM HALLUM
Age 29 in 1911
04.11.1907
ALEXANDER F. PART
03.11.1913
KENNETH CAMPBELL McCALLUM
05.12.1921
THOMAS HAMILTON DENNY
01.11.1943
GERALD GLANFIELD BOYD
06.09.1954
GEOFFREY JOHN WHITEHEAD
04.05.1970
-
-



John Albert Lack, five year old son of the late John Lack, died Thursday 3rd September 1846.

Owned by the Coke family from 1837.

FAMILY & COMMERCIAL HOTEL

VICTORIA ARMS 1845

The Lynn Advertiser of 5th January 1912 reported that Arthur Hallum had pleaded guilty to the charge of suffering gaming.
Police sergeant Earle had discovered gaming taking place at about 8:30pm on 22nd December 1911. A number of men had gathered around a French Bagatelle board and a man named Hearne was at the head of the board with a pencil and note book. On the bar was a joint of beef on a plate. The note book revealed that each man had paid 6d to enter the competition to win the beef. Mr Hallum said at the time that although he knew he should not allow it, as it was Christmas time, he thought it would do no harm.
Pleased that the defendant had pleaded guilty, that he was a respectable man and that other licensees had been duly warned, the Chairman of the magistrates said that there would be no conviction and the case would be dismissed upon the condition that no further gaming was allowed on the premises.
~
Licensees given as Trust Houses Ltd 1937
1998 - Contains a splendid, unspoilt bar at the eastern end.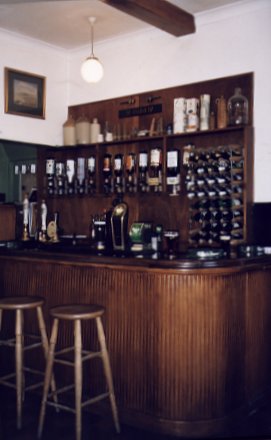 The bar - October 1998
Plans announced January 2004 to increase the number of bedrooms from 9 to 24 and to increase the size of the dining room.