Licensees :
-
ELIZABETH SHEPHERD / SHEPPARD / SHEPPERD
1783 - 1791
CHARLES BANYARD
(Previously at the Three Tuns, Lynn.)
25th M

arch

1794
BENJAMIN ELLIS

to August 1804
SAMUEL LOVE
See below
from Sept 1804.
Here 1822
WILLIAM CULYER
1830 - 1833
BENJAMIN CROFTS
1835 - 1837
WILLIAM PARKE
(Peake according to Robson - i

n error 1839)

October 1837 - 1841
JOHN BULLEN
1843
WILLIAM PARKE
age 39 in 1851
1844 - 1862
HENRY GARNER
Went to Aylsham BLACK BOYS
1863 - 1864
ROBERT ELLIS
1865 - 1868
Mrs SARAH ELLIS
1869 - 1872
WILLIAM FREDERICK BUTTON
1875 - 1877
FREDERICK WILLIAM BUTTON
1878 - 1880
GEORGE EARL
24.07.1880
ROBERT WILLIAM DAPLYN
20.10.1883
CHARLES JOSEPH CAMPLING
13.12.1897
THOMAS EDWARD POWELL
16.10.1899
GEORGE BAMBRIDGE RUSH
13.10.1902
CHARLES CUBITT COOKE
10.02.1919
Fine £5 for selling out of hours 30.09.1921
THOMAS STEPHEN MILLGATE
12.03.1926
Fine £5 for selling out of hours 11.02.1927
KENNETH ERNEST VICTOR RICHARDSON
19.09.1930
GEORGE LAVENDER
16.06.1933
FRANCIS JAMES CLARKE
09.03.1945
HARRY STUART MANION
25.07.1952
HARRY STUART MANION
(Same person as 1952?)
?.10.1957
RICHARD JULNES BOWETT
(Protection Order 11.07.1969)
25.07.1969
ANTHONY J PARSONS
16.10.1970
ROD & MARION SAUNDERS
09.1972
-
-
Mary Love, widow of the late Samuel Love, died September 1829, aged 56.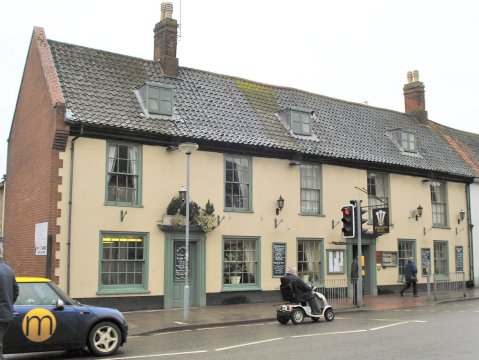 February 2002

Dates from 17thC.

Generally given as the THREE FEATHERS to 1910.
Licence issued in name of Feathers 7th February 1910

~

The Norfolk Chronicle of May 31 1783 reported....

Briston, Norfolk, May 28, 1783.

To the Creditors of Solomon Colls.

The Creditors of Mr Solomon Colls, late of Letheringsett, after at Langham, and now Briston, in the county of Norfolk, Miller, are requested to meet at the House of Elizabeth Shepherd, usually called the Feathers Inn, in Holt, in the said County, on Thursday the 12th Day of June next, about Two o'clock in the Afternoon of the said Day, upon special Affairs, and to bring their Securities with them. -- And such of the said Creditors as have not heretofore delivered in their Accounts, are desired, previous to the above intended Meeting, to send them to Thomas Mendham.

~

For Sale by Private Contract September 1801.

In the occupation of Mr. Charles Banyard, under a lease of which six and a half years would be unexpired by 10th October 1801. About 13 acres of good Arable Land, belonging to the Inn would be available from 10th October (Old Michaelmas).

~

Samuel Love advised his customers and friends, 22nd September 1804 that he was moving from the

KINGS HEAD

to the

FEATHERS INN

.

~

In 1830 the coach the NORFOLK REGULATOR left for London every Monday, Wednesday & Friday at 5:45am.
The journey was scheduled to take 14 hours.

~
William Parke announced 18th October 1837 that he had taken the Inn and Commercial Gentlemen could rely upon their comforts being personally attended to. Wines and Spirits of the best quality.

~

For Sale by Auction Wednesday 25th May 1859.
Containing entrance-hall, bar, counting-room, porter and commercial-rooms, two other sitting-rooms, a large dining-room, thirteen sleeping-rooms, six attics, water closet, kitchen, wash-house, store-room, coal and knife-houses, ale and wine cellars.
Adjoining, a large yard containing stables with 16 stalls and one box, several open boxes, coach-houses, harness-rooms, tap, granary, hay-house, ale stores and other outbuildings.
At the rear, a Bowling Green and large profile Gardens, containing altogether, with the site of the Premises, 1A.1R.28P. all Freehold.
Considerable sums having been spent on the interior of the house over recent years.
Possession at Michaelmas 1859.

~

For Sale by Auction Saturday 21st June 1862 by instruction of the Trustee of the late Benjamin Crofts, deceased. With large Stables and Bowling Green, in occupation of Mr. William Parke.
A Freehold Property with occupation from Michaelmas 1862.