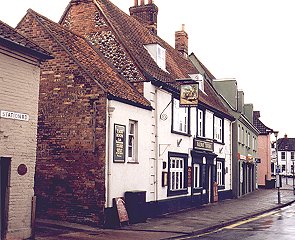 12.10.1999

Known as the RAILWAY HOTEL by 1892.
Family, Commercial & Posting House as early advertising.

Advertised To Let 24th September and 8th October 1898.
Available from Michaelmas 1898.

Offered To Let, September 1900, with Possession at Michaelmas.
Apply to H. Turner, Morgans Stores, Holt.

Also referenced as RAILWAY INN.
Renamed FIGHTING HENRY 1976 to early 1980's

RAILWAY TAVERN to 2013.
Morgans sales 1960 given as 132 barrels of beer and 22 spirits.

Plans to convert into shops and private dwellings announced September 2012. Objections to loss of premises raised since it is `the last real pub in town'. Plans `deferred' 10th January 2013.
Fate to be finally decided at North Norfolk Council meeting Thursday 14th March 2013.
~
Closed for business Sunday 6th October 2013.
Part to be converted into dwellings, future of remaining part of public house `uncertain'.