Site of a Mead House established by St. Benets monks c1040.
A Mrs Grabbard is thought to have leased the house in 1500 at an annual rent of 7shillings plus two fat hens.
Lot No. 17 in sale by auction of the Coltishall Brewery estate 21st May 1796. ``With a yard and the barn, stables and outhouses thereto belonging; Also about 3 Acres 2 Roods by estimation of arable land and about 9 acres by estimation of marsh land with a reed rond * ; Also a commodious Ferry Boat built a few years since at the expense of £100 and upwards; Together with Tolls arising from the ferry. Leasehold of the Bishop of Norwich for three lives viz, of William Baker Esq., aged about 80 years, Susanna Ransome aged about 41 years and the said Chapman Ives aged about 38 years. Lease rent 8 shillings per annum.''
Leasehold premises, owned by the Lord Bishop of Norwich for three lives, as advertised for sale 4th November 1797. Including Yard, Barn, Stables, Outhouses and about 4 acres of arable land and 9 acres of marsh land.
Lot No. 7 in a Sale by Auction Saturday 30th January 1819.
Of the 8 Lots, seven were public houses about the county.
One end of original house was rebuilt and carried the date 1825.
(As recorded 1938 when the telephone number for the proprietor was Horning 2. The house was said to be the only Free House on the Broads).

Steward & Patteson took over the house in May 1960. One of the first improvements they made was to replace `chemical' toilet facilities with W. C.'s and upgrade the urinals.

Given as the FERRY HOUSE 1872 & 1879.
Also given as the FERRY HOTEL.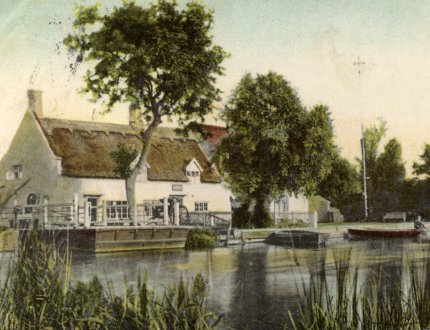 1904
The thatched house was destroyed by bombing at 9.45pm 26th April 1941. Subsequent reports stated that 21 of the 24 occupants were killed. A later account gives the number of dead as 22. Licensee Albert Stringer was `pulled alive from the wreckage by his wife Rita'.

In 1954 Mr. R. A. Stringer purchased a door, dating from 1614 once fitted to the NEW LOBSTER INN, Norwich, which, according to the report, had been demolished in 1828. (However the NEW LOBSTER was still listed to 1830). Paying £16 for the door, it was intended to be used in the post war rebuilding.

The house was again destroyed by fire 31st March 1965 and again rebuilt.
The TFI RESTAURANT by mid 2017.