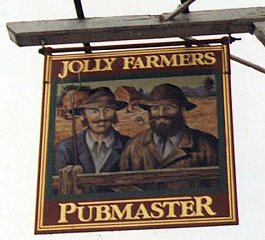 Conveyed between Edward Everard and Richard Sands in a conveyance dated 4th March 1856. The Hoste Arms at Burnham was also included in the transaction.
House offered for sale by auction Wednesday 24th March 1909.
Mr Charles Ellis was giving up the property and a
`useful and substantial quantity of Household Furniture
Also Bar Utensils, and Miscellaneous Outdoor Effects' were included.

Closure agreed at the First Joint Committee Meeting of Bullards and Steward & Patteson 29th May 1962.
Sales reported as 22 barrels.
The tenant said to be 68 years old and to have been at the house for 38 years.

The bar was installed during the period of modernisation 1963 - 1968.
Prior to this service was provided through a split cellar door.