Licensees :
-
GEORGE ALCOCK
1783
RICHARD WATTS
1794
HENRY MASON
1795
-
WILLIAM JOHNSON
1830
THOMAS BRIDGER
1836
SUTTON SPARKES
1839 - 1846
EDWARD NORTON (37 in 1851)
Died Q3 1852.
1850 - *1852
Mrs CHARLOTTE NORTON
Age 41 in 1861
Age 58 in 1871
1852 - 1877
BRIGHTMORE BENSLEY
1878 - 1879
WILLIAM TOLMAN
Age 67 In 1891
1881 - 1896
CHRISTOPHER E JARVIS
1900
Mrs LOUISA TUCK
1901 to 1908
GEORGE WILLIAM CLARKE
07.02.1908
WILLIAM MELONIE
06.02.1914
JOHN NEVE
12.04.1918
HERBERT JOHN WHEATLEY
24.08.1923
ERNEST BLYTH
09.07.1926
BOSWELL OXTOBY
23.11.1928
OWEN McGRATH
28.11.1930
HERBERT JAMES ANDREWS
10.07.1931
ARTHUR STANLEY CARLEY POCOCK
08.01.1932
ARTHUR HENRY BLACKBURN
24.11.1933
ROBERT JAMES WILLIAMS
24.05.1940
EDWARD JOHN WHEELER
06.07.1956
DAVID JOHN DICKERSON
04.01.1957
JOHN JOSEPH NOBES
10.01.1960
STANLEY ARTHUR NOBES
10.03.1961
EILEEN MARY NOBES
04.01.1963
LESLIE ROSE
09.10.1964
MAURICE WILLIAM McMAHON
07.01.1965
JAMES FRANCIS IRVINE
09.02.1968
ANDREW JOHN HARVEY
16.04.1971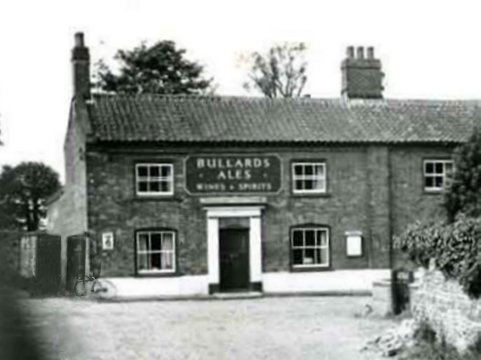 c1960

In the occupation of George Alcock when offered for sale (as the George), 1st August 1783.
Included Stable, Garden, Orchard and Pightle adjoining.


Lot No. 37 in sale of Bircham & Sons Reepham Brewery on Saturday 8th June 1878 - then let to B Bensley at an annual rent of £30,
`Occupying a large frontage to the road , containing - Neat Bar, Tap Room, Large Bagatelle Room and Capital Club Room; Back Parlour, Store Room with Cellar under, Kitchen, Pantry & Wash House; 7 Bedrooms, Yard and Garden to rear; Detached Skittle Ground, 3 Stall Stable and Loose Box, with Lock-Up Coach House; Also a large Garden abutting the road and Subscription Bowling Green adjoining - Copyhold to the Manor of North Elmham Novers'


Lynne Noon advises July 2013 - Boswell Oxtoby held the licence from 1928, but lived elsewhere. Lillian and Edward Youkitanie actually lived on the premises and probably acted as managers.

Does anybody have further information?


STEWARD & PATTESON (note - this was a Bullards house) report prepared for WATNEY MANN (East Anglia) Ltd, June 1969 recommended Immediate closure.
The report stated that the structure and roof were in poor condition.
The house actually closed on either the 3rd or 5th April 1971, depending upon which Bullard record is studied. The reason given for closure was that the landlady suffered a heart attack.
70 barrels of beer, plus 44 (barrels) of bottled beer, sold in final year of trading.
Licence not applied for 11.02.1972