Licensees :
-
WILLIAM BOWEN (?)
1794
-
THOMAS GICE (?)
1832 - 1833
THOMAS GILL
1836 - 1846
EUGENE SPOONER
1854
ROBERT SPOONER
1856 - 1858
WILLIAM ETHERIDGE
Age 42
* 1861
WILLIAM MOORE
& farmer of 85 acres
Age 38 in 1871
1863 - 1875
HENRY FLOOD
1877
EDMUND CROSS
1879
CAROLINE CROSS
1881
WILLIAM WOODS
Age 72 in 1891
1883 - 1892
JOHN CAMMACK MANN
1896
WILLIAM RALLISON
1900 - 1904
GEORGE J. JACOBS
1908
FRANK RANDS
1912 - 1915
Mrs A RANDS
1916
CECIL FRANK RANDS
by 1922
ROBERT NICHOLS
23.01.1933
BEATRICE LEAH NICHOLS
12.02.1940
WILLIAM GIBBS
24.04.1950
DANIEL HAYES
25.10.1954
OLIVER BOWERS
20.10.1958
FREDERICK CHARLES ROWLAND
28.12.1964
to at least 1969
-
JOY HALSTEAD
1997 - 2002
STUART WARWICK
2002 - 2004
MICHAEL & CARON LEE
by 10.2004
SANDRA INGLIS
November 2012 - March 2013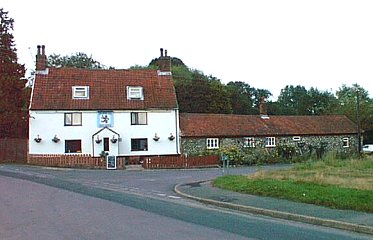 Image by Helen McCallum - August 2000

Morgans sales for 1960 were :-
175 barrels of beer
38 spirits
Closed March 2013

House awarded Asset of Community Value status September 2013.

Plans to run as Community Pub announced August 2014.

Unfortunately the owner, October 2014, advised that change of use had been obtained and the building no longer legally a public house.
3rd November 2014 - newspaper reports that the property has been added to the Breckland Council Community Asset Register and the community has so far secured some £83,000 of the the £250,000 needed to purchase the freehold.

24th November 2014.
Building owner confirms that the property is " not for sale, is off the market and is being leased as offices.
In any event the asking price had been £275,000 and not as reported in newspaper."