Licensees :
-
HENRY RUSSELL
& watchmaker
1868 - 1885
THOMAS WILLIMOTT
1891 - 1907
ARTHUR ELIJAH PALMER
licence forfeited 1909 according to S&P records
09.02.1903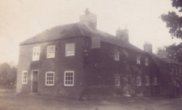 1904


On Monday 5th February 1906 the renewal of licence was deferred to the adjourned Sessions.

Mentioned in January 1909 Magistrates Licensing Sessions.
"Referred for Compensation"
Temporary licence issued.

Licence refused at Compensation Authority meetings of 21st and 23rd June 1909.
Reported as a beerhouse, owned by Mrs Robert George and run by licensee Arthur E Palmer.

Not mentioned thereafter.