Licensees :
-
-
?
1785
JOHN ROPER
here 07.09.1789 - 1794
-
THOMAS ALLDAY
(Went to LYNN ARMS)
1831
Mrs SUSAN BROOKS
& coal dealer
1836 - 1846
EDMUND BROOKS
age 41 in 1851
& coal merchant
& farmer
1851- 1896
EDMUND CHARLES BROOKS
1900 - 1904
ARCHIE JAMES CRISP
to March 1907
JOHN HENRY SEALS
(also as John Henry Seales)
1908 - 1929
NELLY BACK
* 1929 - * 1932
FREDERICK WOOD
1933 - 1937
RONALD BELL
by 02.1950
BENJAMIN JOHN POULTER
06.06.1955
GEORGE ALFRED LEACH
01.07.1957
HENRY COLLISON
31.03.1958
ALBERT JOHN GRIMMER
& milkman
18.04.1966
KEN ROBINSON
mid 1978
ELSIE ROBINSON
to 1981
TREVOR & LIZ HOWLING
December 1981
The first meeting of the Dividend Society was held here Saturday 19th December 1908. Mr W Sutterby and Mr J Spencer presiding. After the usual loyal toasts had been honoured, Mr Sutterby proposed ` The Setch Sick and Dividing Society and Officers' coupling therewith the names of Messrs W Easter (secretary), H Parsley (chairman) and J Seales (treasurer). Mr Spencer then submitted the report and balance sheet. The total number of members was 26 and the total receipts for the year were £34 5s 4d, whilst expenditure amounted to £7 18s 4d, leaving in hand a balance of £26 7s 0d, each member receiving £1. (Hear, hear).
Songs were sung by Messrs Lawrence, Sharpin, Carter, Frost and others. Mr W Baker lent his gramophone and dancing accompanied on the violin by Mr S Brinkley, concluded a very enjoyable evening.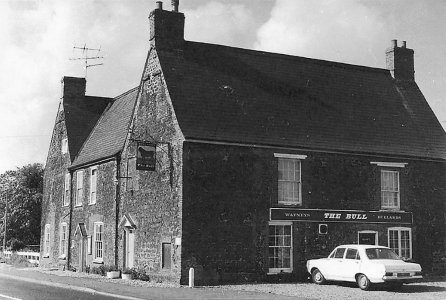 c1975 - Under Watney Mann - Image thanks to David Apps.

Advertised for sale by private contract June 1785.

Shown on Bryant's 1826 map

For Sale by Auction Tuesday 25th October 1831, then in the occupation of Thomas Allday as undertenant to Messrs. Hogge & Co.
"With the Scite of the Old Market, Yards, Garden, Gravel Pit and six pieces or parcels of Arable Land containing 25A.0R.15P."

The Lynn Advertiser of 17th May 1907 advised all creditors of Innkeeper and Coal Merchant, Archie James Crisp
to send any demands on the estate to the assigned solicitors.
Mr Crisp had died on the 24th March 1907 and administration of his estate had been granted to his wife, Annie.

The same newspaper carried details of the items to be included
in the sale of Household Furniture and Effects of the late Mr Archie Crisp
at 2 o'clock Wednesday May 22nd 1907.
Comprising the active and well-known Bay Van Horse, 9 years old, quiet and good worker; a Young Red & White Cow in full profit (been served); Fat Pig, 40 Barn-door Fowls. Dead Stock of Coal Van, to carry 1½ tons; extra strong spring Coal Cart, 2 fowl-houses (moveable in sections), chain barrow, set of van harness, 2 sets of driving and sundry harness, chaff cutter, barrow, 2 greasing jacks, 3 water tubs, 7 hurdles, pig troughs, old iron, large Lean-to-Shed covered with corrugated iron, lump of manure, &c.
and FURNITURE & TRADE UTENSILS, Viz.:
2 bar tables on iron legs, 4 deal tables, 22 mahogany and other chairs, carpeting, skin rug, set of 4 hunting pictures, overmantel, wall clock, 2 iron bedsteads and bedding, chest of drawers, 2 washstands, swing glass, pair of steps, watchmaker's work-table and tray, oil tank on stool, sundry dinner, tea and glassware, 4 milk pans, forms, 3 dart boards, 3 baths, 50 stem glasses, 31 plain pint glasses (stamped), 12 ditto with handles, 8 quart and 3 pint mugs, 4 gallon and ½ gallon cans, set of 6 pewter mugs, 15 wine glasses, 6 waiters and other effects of the late Mr. Archie Crisp.


Closed late July / early August 1984.