Licensees :
DANIEL DUNNETT
1794 - 1818
JOHN ROPER
1823
DANIEL DUNNETT
1824
JOHN CANHAM
1830
RICHARD MULLEY
1836 - 1839
Mrs SARAH MULLEY
age 59 in 1851
*1841 - 1854
EDWARD WALDEN
1856 - 1875
ROBERT YOUNGS
1877 - 1879
ROBERT SPOONER
1881 - 1892
EZRA FLEGG
1896
FREDERICK FAULKENER
by 1900
CHARLES NEWBY
22.05.1903
WILLIAM YULL
13.10.1916
SIDNEY GEORGE CARPENTER
14.10.1921
ALFRED THOMAS BARBER
13.10.1922
HARRY WESTMORE WATSON
10.10.1924
WILLIAM HARRISON
08.01.1926
Mrs Ann Dunnett, wife of W. D. Dunnett, senior, died Monday 22nd December 1817, age 49.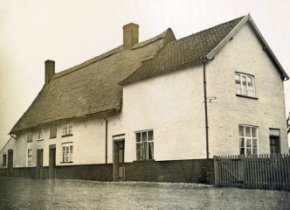 1897 image from the collection of the late Percy Rush.
Shown with permission

For Sale by Auction Friday 3rd October 1823 by order of the Assignees of Mr. P. F. Batterbee (of Norton, Suffolk. Brandy Merchant and Hop Factor), a Bankrupt. In occupation of John Roper, tenant at will and held on a lease for a long term at low rent.

Daniel Dunnet offered the house for Sale or To Let, December 1824

Lot No.42 in auction held 8th June 1878.
`Let to Robert Youngs at an annual rent of £27/10/-.
On the high road from Dereham to Watton containing:-
Tap Room, Parlour, Bar, Pantry, Upland Cellar & Wash house ; Also large boarded Club Room & 5 Bedrooms ; Yard with large detached Skittle Ground or Implement Room, with Capital Club Room over; Also a large Stable for 6 horses, with Loft over & Barn adjoining & Farm Yard with fitted Pens; Large Garden beyond & Another Garden at side and back of house. - The site being altogether about 1 acre - Freehold except a small portion of garden (1 rood 25 p) which is Copyhold to the Manor of Massinghams in Shipdham'.
Purchased by Steward.
Referred to Compensation 12.03.1926
Closed by Compensation and sold December 1926.