Licensees :
-
JAMES ALDRID
1836
WILLIAM BARLOW and / or
ROBERT DADE
See below
.1846
JEREMIAH RICHES
& gardener
*1854 - *1861
Mrs RICHES
1863
ISAAC ABBS
1864 - 1866
GEORGE MARTINS
& market gardener
c1869 - 1894
AMOS FRANCIS BACON
1894 - 1929
FRANK BUNN
(Wife Mabel)
1936 - 1952
AUDREY & CHARLES HALE
1952 - 1964
AUDREY & FRANK DRAKE
1964 - 1984
Closed
IRENE & BURT STALWORTHY
1986
JACKY & KEN BATCHELOR
1987
BARRY CLARKE
1988
MAE BROWNE & SAM
1988
MAE BROWNE
1990
CATHY & STEWART STEEL
04.06.1991
ROBERT WILKINSON
(Wobbly Bob)
01.09.1992
TRISH & TREVOR LAWRENCE
23.06.1995
ROGER ROPER
(Managed by Pat)
15.08.1996
CHRISTINE & MIKE CARTER
07.05.1997
PAULINE & RICHARD PALIN
02.02.1999
-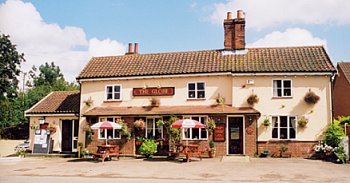 The GLOBE - 2001

Update thanks to Richard Palin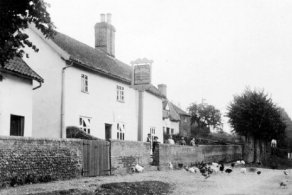 The Globe - c1920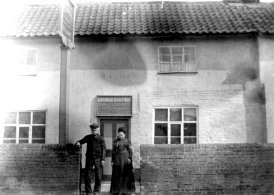 George & Sophia Martins - 1880
All above images provided by R. Palin
At the County Court, held in Norwich on Friday 30th November 1866, Isaac Abbs sought to recover the sum of £8 0s 5d from plumber George Boyce, a resident of Shotesham. The account had been accrued from 9th October 1864 and consisted in the most part, of ale and porter which had been supplied in quantities from two glasses to twenty-one, a day. Mrs Abbs said that the defendant would drink until he was drunk and not liking solitude, would pay a man a shilling per day to keep him company. Some of the items not paid for were matches and onions.
Mr Boyce admitted that he owed money, but indignantly refuted any allegation regarding his sobriety, affirming that he had been sober on many occasions in the previous year. When asked to name a day or two when he had been sober, after some hesitation, he said the 17th October. He also disputed the sum owed and produced a witness, a man in his service, to prove that he was not in the village when some of his imbibatory habits were said to have taken place.
Taking a piece of paper from his pocket, said to contain dates, for the purpose of refreshing his memory, the witness was asked when he wrote it. Upon the answer `Six years ago' there was laughter in the court.
His Honor observed that the witness had committed perjury in that the paper had probably been written that morning.
Judgement was that the debt be immediately settled or a reasonable settlement be found between the parties.
House closed for refurbishment 1984 - 1986