Licensees :
-
HENRY PRATT
1846 - 1854
ROBERT PARSONS
Age 45 in 1861
*1858 - 1883
Mrs ELIZABETH PARSONS
*1888
JAMES CRISP BURRELL
1890 - 1896
JAMES BURRELL
Age 41
1891
Mrs A BURRELL
1902
FREDERICK BURRELL
*1904 - *1922
JAMES ARTHUR RICHARDSON
(John A Richardson in Kellys 1937)
by 1937
HENRY DONALD JACKSON
12.06.1950
JOHN WOODGETT DAWSON
23.10.1961
JAMES ERNEST HITCHCOCK
26.02.1962
to at least 1975
JENNY & BOB WARBURTON
by 10.2005
ALAN KNOTT
2012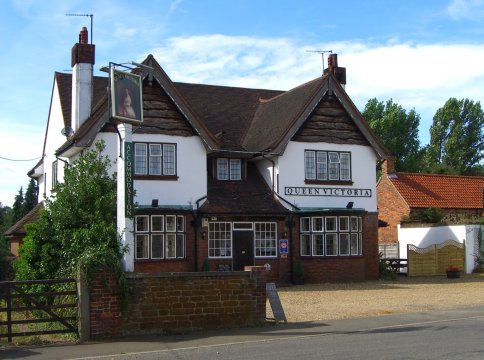 2008 - Image thanks to Bob Warburton

Licence of house considered for refusal at Licensing Sessions of Wednesday 23rd June 1909.
At the time the house held a beer-house licence with provision for consumption on the premises.
This was one of 13 local houses under threat of closure and only this house and one other (Lamb Inn, Kings Lynn) objected to the loss of licence.
According to evidence given in support of the house, it was said that the population of Snettisham was 1,360 and that there were 11 licences in the parish. The licences were 4 full licences, 3 `on' beer-house licences, one `off ' beer-house and 3 grocers' licences.
It was argued that there were effectively one house for every 170 people and that the Queen Victoria was redundant. The New Inn was 90 yards away, the Rose & Crown 185 yards distant and the Compass 242 yards away.
The accommodation of the Queen Victoria included a bar about 16 feet square, a kitchen 16 feet by 12 feet and a private room. There was also a yard where good accommodation was provided and there was plenty of room for police supervision of the house. Police Superintendant Lewis considered the Grapes to be a better house, but agreed that both houses served the working classes. The witness confirmed that there was no difficulty in supervising the house and that it was the nearest house to two quarries and the workers refreshed themselves at the Queen Victoria.
The superintendant pointed out that one quarry belonged to the Grammar School and the other.....
Before he could finish the Chairman interrupted to confirm that he owned the second quarry and that the quarries were really `carr stone pits'.
The bench were reminded that the population of Snettisham could swell by a thousand or more people in the summer and had become more popular in the last two years. (Since the Queen's bungalow was built).
Magistrate Whitby did not consider it likely that visitors to the beach were going to visit the Queen Victoria.
In support of the licence Mr North said that the test was to consider the amount of trade conducted at the house. In the previous year 70 dozen bottles plus 130 barrels of beer and 182 dozen bottles of mineral waters. Men from the carr stone pits got their beer from the house and others lodged and ate there. In the Summer so many people stayed at Snettisham that many had to find accommodation in farmhouses and other places outside the village. To prove that the house was frequented by people from outside the area, it was pointed out that 14 casks of cider had been sold in the last year and Norfolk labourers preferred good beer. Tea and coffee were also served at the house.
The Magistrates decided to re-new the licence.