Licensees :
-
RICHARD CURTIS
From December 1790 - 1794
Mr. R. GARDER / GARDINER
1817 - 10.1818
ROBERT RAYNER
(Robert Router According to Norfolk Chronicle)
Died Sunday 9th February 1823 - age 50
from 10.1818
to 1823
SARAH RAYNER
by 06.1823
EDWARD BEAUMONT
1830 - 1837
HENRY PLUMB
1839
WILLIAM TINDALE
age 44 in 1851
(also as TYNDALE)
1845 - 1856
WILLIAM BOYCE
& farmer
(Died Saturday 25th April 1868 - age about 65)
1858 - 1863
ELIZA CASTLETON
1864
JAMES PARKER
1865
WILLIAM THOMAS SHARP
1868 - 1869
WILLIAM R WELCHER
Age 25
1871
HARRY COX
1872
Mrs M LEADER
(at the Commercial Inn)
*1877
SUSAN BOYCE
1881 - 1883
CHARLES ANDREW WRIGHT
1888
HIRAM WARREN
1890
JOHN MANN
Age 28
1891
THOMAS WILLIAM RUMBOLDS
1892 - 1898
WILLIAM JOHN FOX
1900
Mrs COX
by 1902
It is said that Mrs Cox retired in 1902 and that the house closed.
It seems that the Crown moved into the premises of the
Kings Arms at this time.
ERNEST WILLIAM CATFORTH
1903 - 1904
THOMAS PALMER
1908 - 1912
WILLIAM JAMES DOE
1916
MAGGIE DOE
by 1917 to 1919
ALEXANDER BLACK
28.07.1919
ALFRED EDGAR TATUM
02.01.1933
ENOS WALTER SPRINGETT
09.07.1934
ROBERT JOHNSON GEMMELL
11.07.1938
GEORGE WRIGHT
27.02.1939
-
-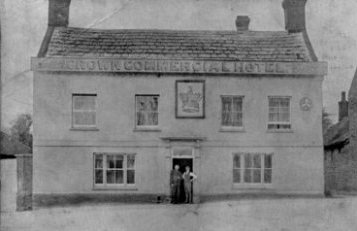 c1910
(This is the building that was previously the KINGS ARMS)

Original building now known as All Saints Lodge.
Said to date back to 1380

For sale by auction 13th July 1790.


Meeting regarding the Inclosure of Stoke Ferry, Wretton, Wereham and Winnold held here Friday 24th November 1815.

To Let with Immediate possession October 1817.
Apply to Mr. R. Garder. the present tenant.
With or without about 70 Acres.

Appears on Bryant's 1826 map.

For Sale by Auction Thursday 27th July 1837.
Lot 1. being the Eastern Part of the Inn, well adapted for a shop in any trade, having a frontage of 38 feet, with Stables, Out-buildings, Yard and Gardens.
Lot 2. being all the other part of the Crown Inn Estate lying immediately behind the Inn comprising a Capital Barn, extensive Stabling, Yards, Garden and Paddock of excellent Grass Land adjoining.
Lot 3. All that remaining part of the Crown Inn Estate fronting the Market Place; consisting of a commodious Inn and Posting House, with Cellars, Coach-house, Stables, Offices and Out-buildings, Yards and Premises adjoining.
A Freehold Estate all in occupation of Edward Beaumont whose tenancy to expire 11th October 1837.
~

10th September 1864 - The Crown Hotel Stoke Ferry
Edward Banham is favoured with directions from Mr E. Castleton to sell by Auction, on Thursday and Friday, the 15th and 16th days of September 1864, the entire contents of this old-established inn, Posting Establishment, Out door and Live and dead Farming Effects. First day – The principal furniture, plate Linen &c &c Second day – Post horses, Flys, harness, Agricultural Implements and Out-door effects

~

Ex-licensee William Boyce died Saturday 25th April 1868 following a `paralytic stroke' suffered whilst in a shop at Stoke Ferry. He had been licensee of the George Hotel in Swaffham before his time at the Crown. He had previously been butler at Narford Hall. His age was given as `over 60.'

~
The Household Furniture, Brewing Utensils, Post horses, Carriages, Harness and Farming Stock of Mr. W. T. Sharpe were to be Sold by Auction Wednesday 6th October 1869 since he was quitting the Crown Hotel.

~

Richard Curtis advised the public 17th January 1891, that having taken the CROWN INN at Christmas, he had fitted it up in every respect, suitable for public accommodation.


Family & Commercial Hotel.
Relocated pre 1904 into house that was previously the Kings Arms.
The original house stood across the road, to the right, at right angles to the house shown above.

Morgans sales were 105 barrels of beer in year immediately before closure.