Licensees :
-
THOMAS BRIGHTON
1789 - 1794
-
JOHN BRIGHTON
1822
JOHN WATERS
1830 - 1836
JOHN CLAXTON
age 30 in 1841
1839 - 1845
GEORGE WHITBY
age 43 in 1851
(George Whitley 1858)
1846 - 1865
JOHN PALMER
age 47 in 1871
1868 - 1886
THOMAS AUGUSTINE PILCH
age 77 in 1891
1888 - 1896
ARTHUR GEORGE NICHOLS
1898
WILLIAM RICHES
1900
JOHN DAILSEY COULSEY
age 59
1901 - 1903
Mrs ELIZABETH COULSEY
widow
27.04.1903 -
1904
ARTHUR COMAN
1908
PATRICK TIGUE
Age 48 in 1911
1911 -1912
WALTER HENRY THOMAS CARTER
1916
JOHN ARTHUR WOODHOUSE
(died 21.02.1928)
by 1922
LILLY WOODHOUSE
23.04.1928
ROBERT ELLINGFORD
09.09.1940
JOHN HENRY BELL
08.03.1948
DAVID OLAF REES
13.02.1950
HORACE ARTHUR PIDGEON
08.09.1952
PETER ELLIS WICKHAM
26.08.1957
MICHAEL M. SWEENEY
08.02.1965
CHARLES RAWLINGS
12.02.1968
-
MARK ADAMS
28.08.2003
-
CLAIRE EVANS
11.2014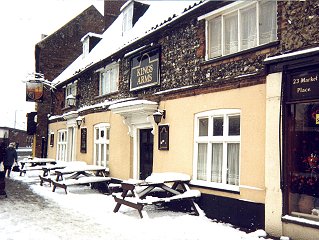 January 1996
Dates from 1608.
Included within Lot No. 1 in sale by order of the Trustees of the late John Morse Esq. held 8th & 9th September 1847.
The property included :-
2 Parlours, Bar, Store room, 2 Kitchens, Pantry, & Cellars & 8 Sleeping Rooms, Large Club Room in the Yard and 3 Stables with Hay Lofts and an excellent Well of water together with a dwelling House adjoining, fronting the street and including a Shop at a yearly rent of £12.
~
On Thursday 4th September 1851, Robert Green, under-ostler to Mr. Whitby was caught by his master in the act of beating Harriet Hudson, nursemaid, with a kitchen poker. Green was arrested for aggravated assault and ten days later the girl was still in a `precarious state', Green being remanded for further examination.

In Court Tuesday 16th March 1852.
Robert Green (37) when apprehended by John Mingay, a constable, said "he would never be happy till he had beat her ******** brains out." He had often had a row with her and he thought this a good chance. ....... He said he was determined to settle her....Another Policeman said, when the prisoner was in custody, he expressed regret that he had not killed the girl.....Mr Rose, surgeon,......stated he found Harriet Hudson stunned from a blow on the head......The prisoner in defence said, the young woman had very often aggravated him. He admitted that he had struck her with a poker but denied that he intended to do her grievous harm.....The Jury returned a verdict of guilty ....sentenced to imprisonment with hard labour for 18 months.
~

Noted closed and for sale 27/08/2010

Advertised as a Free House and Restaurant by 2012

Closed mid 2014

To re-open by end November 2014 as a "Vintage Cafe and Gastro Pub"
Georgian ballroom on first floor destined to be used as a function room.