Licensees :
-
WILLIAM DICKENS
(Also found as Diggens)
1780
GEORGE WICKS
1789 - 1794
-
WILLIAM CHESSON
1845 - 1846
JEFFERY JOHN MANN
age 52 in 1851
& farm bailiff
*1851 - 1856
Mrs SARAH MANN
*1858
THOMAS BROOM
1861
Mrs SARAH BROOM
1864 - 1872
ARTHUR ROBERT COX
1875
ARTHUR PAYNE
& Pork butcher
according to White
*1883
SAMUEL PAYNE
*1883 - 1888
WILLIAM PAYNE
1890 - 1891
ROBERT MILFORD
1892 - 1896
HERBERT GATES
1900
ROBERT KNIGHTS
by 1903
GEORGE NEAVE
25.11.1907
ALFRED DOBIN
26.04.1909
ARTHUR C. PEGG
26.06.1916
EMMA PEGG
26.11.1917
GEORGE MORRIS FORD
29.11.1920
Fine 29.12.1924 of £1 for selling out of hours.
THOMAS CURTIS
29.10.1928
GLADYS MARY CURTIS
30.07.1928
GLADYS MARY ASHMORE
undated
ARNOLD HUGH ASHMORE
25.04.1932
E. T. SLEGG
30.07.1973
-
JOHN MATTHEWS
1989 -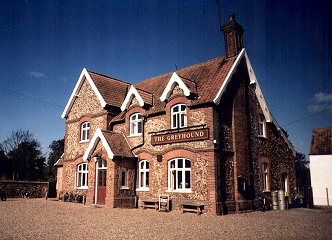 c1986


Mr DICKENS was subject to a threat of murder by some 20 smugglers who accused him of informing upon them, the smugglers demanded £60 in recompense for the goods that were seized. Mr Diggens happened to be away at the time that the offenders `besat his house in the night, broke all his locks, confined his wife and servants, and swore desperately that they would murder him.' Mrs Dickens escaped and roused Lord Townsend and his servants who immediately came to their assistance - The smugglers made off.
(Norfolk Chronicle 18th November 1780)
A reward of £100 was subsequently offered for any person `who shall apprehend, or cause to be apprehended, any of the persons concerned ...... likewise a free pardon to any one of them that will discover his accomplice......'

~
On Monday 27th September 1886, satisfied that the new house had been built according to the plans, the magistrates granted the final order of removal to the new premises.


Not mentioned 1863, 1877 or 1879.



Application to turn into a private dwelling reported 31.05.2000.
Local councillors ``To recommend against the proposal''.

House closed 2004.