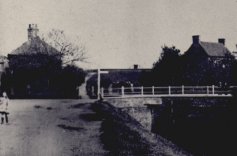 The LODES HEAD c1920
(extreme left)
Also referenced as the
LOADES ARMS
.
Location given as St Mary Magdalen 1864 & 1925
and in the Licence Registers.
Licensee William Lambert is mentioned in an assault case as reported in the Lynn Advertiser of 12th August 1910. (House name given as Roe's Head in newspaper report and the case was heard 18th July.)
Closed by February 1985.