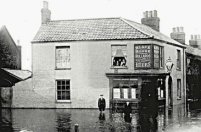 1912
Located on the South side of Heigham Street, on the Eastern corner of Devonshire Street.
Address of Heigham Causeway 1867 & 1879

Number 99 Heigham Street in 1892.
First noted as 115 Heigham Street in 1901.
Damaged by bombing during the nights of 27th - 29th April 1942.

Closed by Watney Mann (East Anglia) Ltd 13.05.1972 and demolished the following year.