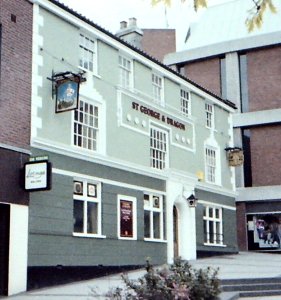 c1985
Address as 15 Haymarket in 1783 & 1802.
The house was engaged for Freeholders, the Friends of Sir Edward Astley, Bart. and Thomas William Coke, Esq. on Wednesday 14th April 1784, being the Day of Election. (One of 53 such houses in Norwich)
One of 36 Norwich houses opened for the reception of Voters in the interest of Mr. Windham and Mr. Coke on election day Thursday 13th November 1806. The name of the Hundred for which the house was appropriated was to be displayed at each house.
Samuel Prentice announced 26th March 1808 that he had made improvements to the inn, increasing the number of beds and offering much enlarged stables.
The
GEORGE AND DRAGON
in 1822.
5th March 1853 - Offered To Let, with possession Lady-day next. `Old established and eligibly situated Commercial and Market Inn, replete with every convenience, and now doing extensive business. Apply to Messrs. Morgan Brewers, Norwich
October 1853 - Providing an Ordinary on Saturdays at One o'clock for 1s 3d.
Bed and Breakfast 2s - Good Stabling.
Licence renewed at Sessions held 19th August 1862. One of several houses where the licensee had been proceeded against during the year. The offences, for which summonses had been issued were either for selling beer out of hours, for allowing gambling or for permitting persons of bad character to assemble.
(Offence at this house not specified in report.)
Offered to let, as the
GEORGE
, August, September and November 1865 - Apply personally to J.B. and H. Morgan, Brewers.
John Armes applied, on Monday 24th August 1891, for a music and singing licence for the benefit of the six benefit societies met. Application granted.
Referenced in registers as the
GEORGE
to 05.05.1937.
The
GEORGE AND DRAGON
to 1954.
The
SAINT GEORGE & DRAGON
to closure 1988.
Early extension 5:00am to 6:00pm granted 02.07.1904.
(Lost by 1918 ?)
Renovations in the late 1970's formed one large bar from the original two and uncovered many ancient timber beams.....but these were not deemed to look `authentic' so were clad with more eye catching polystyrene replicas.....which succumbed to some finger tip indentations.

Closed 1988.


Converted to a building society office in c1990.
Became a burger bar by 2002.
House no. 147 on 1845 Magistrates list