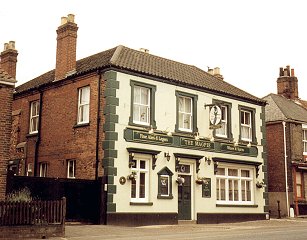 July 1996
Not identified prior to 1806, however......
Described as Old-established in March 1810 when offered for Sale by Auction. Then rented to J. Holmes at £30 per annum and including the Weighing Machine for about five tons.

Offered For Sale by Auction, June 1814, unless sooner sold by Private Contract, with weighing engine, stables and Cottage adjoining.
Frontage included Public Weighing Apparatus,
approved by Norwich City Council.
House consequently also referenced as
`THE WEIGHING CHAINS'
and in 1843 `THE WEIGHING MACHINE'
Offered Thursday 11th June 1868 To Be Let by Auction, by the Norwich Corporation Estates.
With the privilege for two years of weighing hay, Straw, &c. on the Machine fixed on the premises.
Samuel Dunthorne married Maria in 1862
he died c1920. Maria Dunthorne died 22nd March 1938,
a few days short of her 103rd birthday.
Sales 1960 :- Barrels of beer 148, Spirits 37



Freehold owned by the Lord Mayor, Alderman and Citizens of Norwich according to Licence Register of 1965.
CLOSED 2006

Planning permission granted 2016 to convert into four flats and to build two houses at rear.

Empty and dilapidated 2018

See page 84 of Norwich in Old Postcards Vol 1, first published 1988