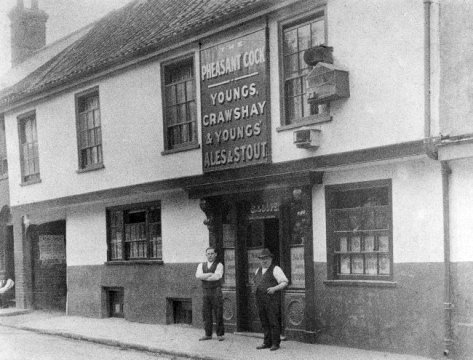 c1908 - Samuel Cooper licensee
Image shown with permission of

Norfolk County Council Library and Information Service

Also found as the
COCK PHEASANT
and
as the
COCK & PHEASANT
.
Location given as `Opposite the Church' in 1845
and in 1856 as at St. Miles.
Address as Church Street 1863.
Licence refused at Sessions held 19th August 1862.
One of several houses where the licensee had been proceeded against during the year. The offences, for which summonses had been issued were either for selling beer out of hours, for allowing gambling or for permitting persons of bad character to assemble.

At the Sessions 25th August 1863 the chief constable said the house had been well conducted since the licence had been taken away in 1862 for harbouring bad characters. The magistrates consented to restore the licence.
The renewal of licence was opposed at the 9th February 1905 Licensing Sessions. The Chief Constable objected to a door opening into stables and the lack of `proper sanitary accommodation'. In support of the licence application it was said that the door had already been blocked off and that any sanitary accommodation that the Chief Constable may require would be provided .
Licence renewed.
Order issued 10.10.1922 declaring final the provisional removal of licence to a new house (CRAWSHAY ARMS) at Philadelphia Lane, St. Clement.
Licence surrendered accordingly.