Licensees :
WILLIAM AMEY
1760 - 1764
-
JOHN SPINKS
1810
D. EMERY
1822
JAMES BARNES
1830
MARY BARNES
by 1836 - 1865
WILLIAM BARNES
by 1867
SAMUEL LAKE
04.10.1870
THOMAS POWLEY
25.03.1873
WILLIAM BARNES
18.12.1873
WILLIAM ATKINSON
(given as G Atkins 1877)
06.01.1874
JOHN WOODCOCK
28.06.1881
MARK WARD
10.10.1892
WILLIAM JOINER
10.10.1899
MARIA JOINER
19.03.1901
WILLIAM EDWARD SKEDGE
23.10.1902
WILLIAM BURROWS
08.10.1907
HUGH CHARLES CALLENDER
13.10.1908
WILLIAM GEORGE TYRELL
09.02.1909
LEWIS SMITH
05.04.1909
Convicted 08.05.1914 of permitting drunkenness.
Fine £1 plus 9/- costs or 7 days detention.
JAMES WALLER
24.11.1914
Convicted 25.05.1916 of failing to close against soldiers.
Fine £1 or 13 days detention.
Convicted 15.09.1917 of selling out of hours.
Fine 30/- or 13 days detention.
CECIL MAY BOULTON
13.05.1924
KATHLEEN ELIZA BOULTON
08.05.1928
CECIL RALPH SMEE
10.05.1938
JACK ARNOLD PINK
05.04.1949
NIGEL ALBERT HARDINGHAM
08.03.1955
BERTRAM WALTER FIDDAMENT
12.03.1957
STANLEY HERBERT HARVEY
01.10.1957
JAMES MIDDLETON
07.10.1969
TERENCE WALTER CASEY
10.02.1976
SIDNEY BARRY DUFFIELD
23.11.1976
BARRY WILLIAM BROWNE
07.02.1978
TARA DOHERTY
12.06.1979
STEPHEN WEBSDALE
11.09.1984
RICHARD ALAN WALTER GRAY
10.09.1985
TERENCE JOHN DOWSON
24.11.1987
ANTHONY VICTOR JOHN SMITH
09.02.1988
MICHAEL BROWLER
19.02.1989
CLIVE CRANSTON
18.09.1990
ANTHONY BUNCE & LEON BANKS
08.01.1991
ANTHONY BUNCE & VELMAR ANN DAVIES
01.06.1993
PETER STAMP & STEPHEN JOHN BROWN
12.08.1997
ROBERT KNOWLES & KAREN MARKLEY
13.01.1998
ROBERT KNOWLES, KAREN MARKLEY
& PETER STAMP
10.02.1998
PETER GRAHAM STAMP & TINA MINNS
14.07.1998
DARREN LEE BURTON
15.08.2000
NICOLA & ROBERT MILLS
17.04.2001
SHANE DAVID MOORE
12.2007
RACHAEL LOUISE BOND
21.07.2008 to
14.08.2008
-
MATT PEPLOW
January 2011
-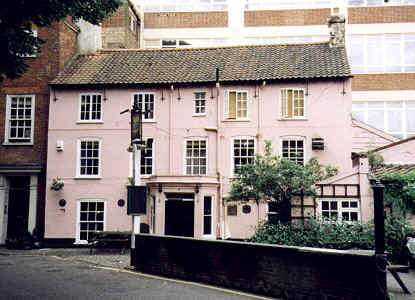 Given as the
WOOLPACKET
1760 & 1763
Stands on the site of the Augustinian Priory of Our Lady Walsingham.

Present house dates from 15thC.

Said once to have tunnel connecting to St. George's Church.
Advertised To Let - August 1870.
Closed for structural repairs September 2001,
to reopen 26th June 2002 as a
`Traditional family run freehouse'.
Closed September 2007........
Re-opened December 2007........

Closed 2008 - Opened 2009

Trading as The WOOLIE from June 2010

Trading as the OLD WOOLPACK by mid 2016 but closed by January 2017.

Re-opened by May 2017