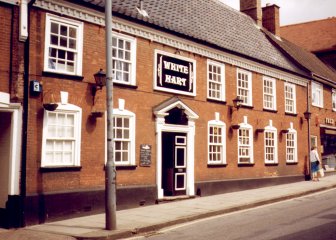 1987
Dates from c1617.
Scorched timbers perhaps indicate existence before the Wymondham fire of 1615, or evidence of reclamation from other sites?
Contains a hidden gallery which gave access to the `Inn Chambers'.
A Concert of Vocal and Instrumental Musick held here Monday 12th January 1746.
A wrestling match held in 1747 between 24 men offered prizes of silver buckles, gloves and a silver spoon. A shooting competition offered silver spurs to the winner.
~
It was announced in July 1773 that Mr. Robinson had taken the house and fitted it up in a genteel manner......
~
The Norfolk Chronicle of 17th August 1782 announced.....
Joseph Trundle, from the
GEORGE
, Cringleford, near Norwich,
Having taken the
WHITE HART INN
, in Wymondham, Norfolk, and fitted up the same in a neat and commodious Manner, with all Sorts of neat Wines, Spirituous Liquors, etc humbly begs the Continuance of all former customers, and the Favours of all other Gentlemen and Ladies will ever be gratefully acknowledged by their most obedient Servant, Joseph Trundle.
Offered to be disposed of by Private Contract 4th October 1823 with possession from Lady Day 1824.
Offered for sale by auction Friday 31st October 1823. Then in the occupation of James Story who would yield possession 1st January 1824. It was said that he had been at the house for 30 years, which would put him in residence from 1793.
House described as Freehold with large dining room, two parlours, bar, kitchen, five good bedrooms and attics, wine and beer cellars, a good brew house with apparatus for six or eight coombs, stabling for 20 horses, haylofts, four granaries, cow-house, yard and other conveniences. Free of all Brewer, Wine and Liquor Merchant.
Advertising ``Neat Gigs with good horses & careful drivers'' in 1827.
In 1830 the coach the MAGNET called daily at 5:30pm on route from Norwich to London, returning the following morning at 7:00am.
A piece of walled-in Land, formerly used by the occupier of the White Hart as a Bowling Green, part planted with fruit trees and other parts with bullock sheds, stacking sheds and piggery, containing about half an acre, was offered for Sale by Auction Saturday 17th May 1834.
To let with immediate possession 15th October 1853 - Apply to Morgans Brewery, Norwich.
Refurbishment in 1973 included creation of an Adam style dining room from what had previously been the `Masonic room for Wymondham.'
£35,000 said to have been spent on the entire works by Anglia Taverns.
Reopened 17th July 1973 by Wymondham UDC Chairman
John Meadows, who said he had lived in the building 50 years earlier, when his father had been licensee.
Plans to remove a wall and build a patio proposed September 2001.

Traded as the HEART of WYMONDHAM until refurbishment during mid/late 2017.
Reopened as the WHITE HART December 2017.
Closed by March 2019