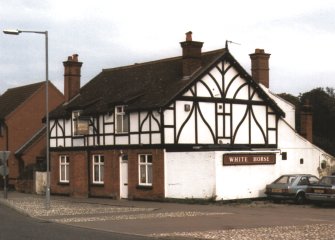 October 1995
Left by landowner Thomas Randall to his grandsons in 1738, one of several houses in his estate.
Address as Pople Street 1830.
Address as Damgate Street 1856
Given at the White Horse, Suton 1850, 1851, 1854, 1863, 1865, 1868,1879 & 1892.
White gives location as Suton in 1850, but Slater says Damgate Street, Wymondham.
The 1851 census gives the address as
Bait Hill, Suton.
White's directory of 1883 gives licensee shown at Damgate Street, Wymondham (but Kelly says he is at Suton 1879 & 1883).
In 1890 White gives location as at White Horse Street, Wymondham.
In 1899 John Betts (Who was known as Treacle Jack)
drank a ½ pint of beer here and then jumped into the path of an oncoming train, by leaping off Bait Hill railway bridge.

Morgans sales for 1960 were:-
126 barrels of beer
18 spirits.