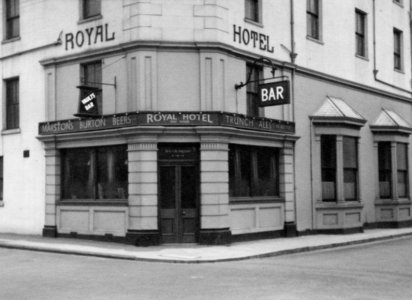 The
VAULTS BAR
c1930.
A Free House selling Marstons Burton Beers, Trunch and Worthington Ales.
BIRD'S ROYAL HOTEL & POSTING HOUSE
when opened.
The Opening Dinner of Mr. & Mrs. Bird was advertised 9th May 1840 to be held on the 20th May 1840. Tickets 12s each.
Mr. & Mrs Bird, late of the Star Inn, announced 27th June 1840 that the Delightful Marine Residence had been completed.
Gentlemen seated in the Hotel would enjoy a Panoramic view of the Sea, with its undulating bosom studded by hundreds of vessels coasting within 300 or 400 yards of the house...........
For he 1841 Season, Mr. & Mrs. Bird provided Hot and Cold Sea Water Baths for the accommodation of visitors, whenever required.