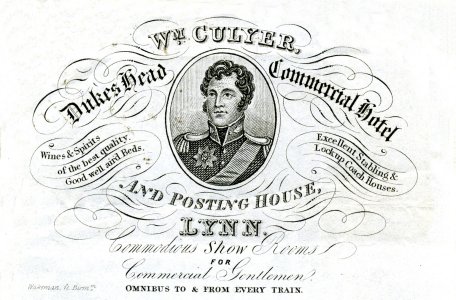 1869 billhead
Built 1685 - 1688 by architect Henry Bell
Opened 1689.
The first Kings Lynn Freemasons Lodge was formed here 1st October 1729.
Stood on the site of the
GRIFFIN
(1576 - 1683)
The original brick frontage designed by Henry Bell (1685) was later (early 20thC) plastered over.
A Cock Fight held here 23rd December 1731.
To Let and to be entered upon immediately, December 1781.
The then present occupier intending to decline business on account of his ill state of health.
Apply to Mr. Scarlett Browne at Kings Lynn aforesaid.
For sale by auction 13th July 1790
Mr. C. Banyard announced to his Friends and the Public that he had entered the house - November 1802.
James Emery advised the Nobility, Gentry and the Public that he had taken the Inn, 18th April 1818.
In 1830 the coach, the Union from Stamford called at the Globe and Dukes Head on alternate days. It headed for Swaffham, Dereham and Norwich . It returned the following day at noon.
Offered for sale by auction Thursday 24th March 1831.
`Considered the First Hotel and Posting House in the Town with excellent position ensuring a considerable portion of the Market business'
Whole site encompassing almost One Acre.
Frequented by the first Families in the Neighbourhood and possessing a lucrative trade in Wines and Spirits, capable of extension. A commodious Tap Room is detached from the house.
Possession at Midsummer next.....


Advertised To Let with Immediate Possession 17th September 1831.
Frequented by the First Families in the neighbourhood.
Detached from the house is a commodious Tap Room.
John Laxton advised the Nobility, Clergy, and Gentry, 26th November 1831, that he had entered upon the Spacious Tavern and would pay every attention to the comforts of his Guests, in providing on a most liberal scale, and by a careful selection of the best Wines and Spirits, to obtain the support of the Public generally. Commercial Gentlemen would get his best attention and management of the Stabling would be on a superior scale. The Posting would also be conducted in the best style with only careful Post-boys being engaged.
Hearse and Mourning Coach to Let.
Offered For Sale by Auction Tuesday 1st January 1833.
Possession at Midsummer.
On 23rd February 1833 John Binge advised his liberal Patronage that he had been favoured with at the
FREEMASONS TAVERN
, that he had Purchased the Long Established Duke's Head and would be in possession 25th March 1833. He had already arranged General Improvements and Alterations to the interior.
Mr. John Johnson, formerly Head Waiter at the Globe Hotel, and lately at the Crown Tavern Inn, informed the Public 20th September 1836 that he had taken the Duke's Head Inn and would enter it at Michaelmas. (29th September).

On 24th September 1836 a sale of the Effects of John Binge (Who was leaving the Duke's Head) was advertised.
The sale consisted of valuable Household Furniture, Plate, Glass, Linen, 200 Dozens of choice old crusted Port, E. I. Madeira, Sherry, Burgundy, Burellas, &c. Capital London-made Billiard Table, well seasoned Horses, Hearse, Carriages, New Harness, and other effects.

William Culyer, late of the BOWLING GREEN HOTEL. Norwich announced 4th April 1846 that he had entered the Inn.

April 1850 - Mr. R. H. Bollin announced that he had entered the house and it was undergoing extensive improvements.

16th June 1855 - Mr. S. Marshall, previously at the Royal Hotel, Norwich, confirmed that he had entered this favourite and long-established Hotel. <Mr. Marshall not recorded at the Royal Hotel, so possibly an employee rather than a manager or licensee?>

For Sale by Auction Tuesday 25th April 1865.
Containing five sitting and sixteen bedrooms, of superior description, dressing room, four large attics for domestics, well placed bar, kitchen, scullery, larder and extensive cellarage, spirit store, bottling-house, billiard, reading, commercial, smoking and show-rooms.
Also a Tap, with three low rooms, pantry, cellar and three bedrooms.
Excellent Stables with 27 stalls and 8 loose boxes, &c.
In occupation of Mr. S.N. Marshall, under a lease expiring Lady Day (25th March) 1866, at the very low rent of £130 per annum.

Mr. John Johnson was absent from the Licensing Sessions held 12th February 1912 owing to ill-health and his son attended in his absence. It was heard in court that there had been objections to the licence owing to nuisance caused to neighbours owing to unpleasantness between the licensee and other members of the family. Chief Constable Payne said that since the complaint the licensee had had the misfortune to have a paralytic seizure. That day he was in an extremely bad state of health and was unable to take part in the management of the business. Hearing that Mrs Johnson managed the business the licence was renewed.