Formerly the
ROYAL STANDARD.
As the
THREE FISHES
1845.
~
George Bishop appeared before the magistrates on Monday 4th July 1870 accused of keeping his house open at illegal hours. As he entered he `bowed very familiarly to one or two members of the Bench'.
The offence was reported to have taken place on the 24th June on the occasion of the Gaywood Fair night. Bishop did not deny being open, but added that the event was a tea party for twenty ladies who had been joined by a further twenty. The Hon. Robert Bourke had given tea to eighty fisherwomen in the North End and they were distributed among the public houses.
The Superintendent of police said that if it had been a simple tea party it would have hardly lasted from six in the evening until two o'clock in the morning. In the early hours of 25th June Police-sergeant Page said he had found six men and twenty women at the house with several pewter measures of beer in view. Bishop was said to have been very drunk.
The magistrates decided that only expenses of 8s 6d should be paid, which was settled by Mr. Ford who had defended upon behalf of Mr. Bishop.
~
Damaged by enemy action 13.03.1941 and again 10.11.1941.
~
Rebuilt by Steward & Patteson c1964 on original site.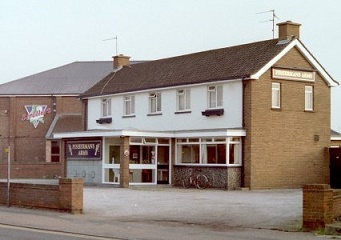 1996
~
Address given in 1971 as John Kennedy Way.
(This was a new road constructed between Railway Road and North Street which effectively positioned the Fisherman's Arms on the corner of Pilot Street and John Kennedy Way.)

(Pilot Street previously known as Dowshill Street)