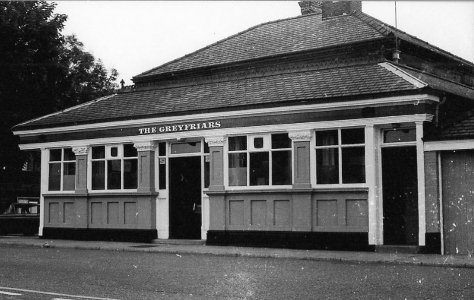 ©
Image by David Apps 1975

Built on land formerly owned by the Blackfriars.
Located on the corner of Blackfriars Road and Waterloo Street.
First found 1881.
Not found in Licence Registers until 1903.
When an application was made for renewal of music licence Monday 29th February 1904, it was heard that licensee Mr. Drake was away ill, at Yarmouth. Upon his behalf it was said that a music licence had been held ever since they had been introduced. There was a room 15ft by 12ft used as the music room, but it did not suit a large company. Two barmaids were employed at the house and one played the piano when required. Ladies were not permitted in the music room, only allowed in the front bar.
Sergeant Rayner said there was no music going on when he visited on the previous Saturday night.
Licence refused.
Recorded in Bagges Brewery documents as formerly the
TAP

.


(Adjoined the
EAST ANGLIAN HOTEL)
Became the
FENMAN