Licensees :
-
ROBERT ROGERS
1779
GILBERT CROWN
Went to Swaffham CROWN
to 1788
RICHARD SMEE
1788 - 1794
-
Mr. R. WALKER
05.1820
MARY WINLOVE
Miss Mary Winlove married Mr. McPherson during the last week of July 1827.
1822 -1827
DANIEL McPHERSON
1830
DONALD McPHERSON
age 59 in 1851
1833 - 1854
JOHN CLARKE
See below
1856 - 1858
(Miss Anne Harris - manager)
1859 - 1861
(Mrs Clayton - Hotel conductress)
1863
SAMUEL NICHOLAS MARSHALL
& farmer
by 1865
CHARLES BRISTOW
12.10.1891
WILLIAM NICHOLLS
11.04.1892
HENRY BRADFIELD
1902
Miss S KERRISON
manageress
(1904)
FREDERICK GEORGE WILLIAM HAYES
05.01.1920
WILLIAM ERNEST EADY
07.02.1938
MARJORIE RUTH WILLIAMS
01.10.1945
HORACE FRANCIS EUGENE WEBSTER
06.10.1947
H. F. E. WEBSTER &
LESLIE HAROLD SMITH
05.07.1948
ALFRED JOHN WILCOCK
01.01.1951
ARNOLD EDGAR GERHARDT
05.10.1953
CEDRIC McGEORGE COCKERILL
09.12.1963
-
MARK JONES
(Lloyds No. 1)
by 10.2002
-
In the London Court of Bankruptcy, Monday 11th August 1859, the affairs of John Clarke, licensed victualler of Lynn, were examined in bankruptcy.
Accounts from 6th October 1854 to 23rd June 1859 recorded : Owing to creditors, £3,734, to holding securities £2,680; Profits in trading £4,964; gift from aunt £150; liability £50. Credits of : by debtors, good £139; property £48; property held by creditors £2,586; expenses £4,801; house and personal £1,804; drawings by Mr. Atkinson 3209; losses £979, deficiency at commencement £977; liability per contra £50.
Examination adjourned for further examination of the balance sheet.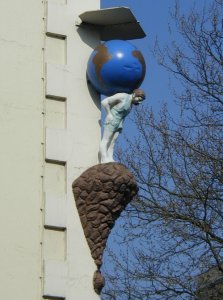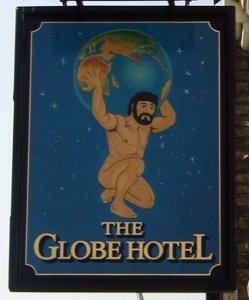 Address as Chequer Street in 1650.

To be Let or Sold April 1779, then in occupation of Mr. Robert Rogers. To be entered into 10th October 1779.
Stabling for 40 horses and no obligation to the person taking over to obtain his Wine, Liquors or Beers from any particular Merchant or Brewer. To be entered upon at Michaelmas old style, 10th October.

To Let September 1788.
Twelve Pipes of Wine having been sold by the tenant in each year of his occupation.
(A pipe of wine being 126 gallons, it was being said that 33 pints of wine were being sold every day.)

Richard Smee, then at the MAIDS HEAD, announced 15th November 1788 that he was to remove immediately to the GLOBE INN.

For sale by auction 13th July 1790

At a Peace Festival held 1814 in the Tuesday Market Place and organised by Francis Goodwin, 6451 people are said to have been served fare including 1600 plum puddings, each weighing 6lbs, 1000 loaves of bread and 61 barrels of beer.
(Assuming the barrels were the standard 36 gallon variety that equates to 2½ pints of beer for everyone in attendance, allowing for spillage. Every person could have also tried almost 1½ lbs of plum pud!)

27th May 1820 - Mr. R. walker informed Commercial gentlemen and the Public in general that he had taken the Inn.


In 1830 the coaches the UNION and the NELSON left for London every Tuesday, Thursday and Saturday at 7:30am.
Another coach called the UNION from Stamford called at the GLOBE and the DUKES HEAD on alternate days, heading for Swaffham, East Dereham & Norwich. The return coach arrived at noon the following day.

Sarah Morecraft, charwoman at the Tap, was accused of stealing a small quantity of sugar, a small quantity of gin, seven pipes filled with tobacco and two glasses, the property of Mr. Donald Macpherson. She was committed to gaol on 6th July 1840.

March 1856 - John Clarke thanked the nobility and Clergy, and the Public in General, for the Liberal Support he received from them.
He advised that, during the Summer Months, the Globe Omnibus would run from the Hotel and Railway Station, Lynn, to Hunstanton and back, to correspond with the Railway Trains.

S. N. Marshall was advertising `By Royal Appointment ' on his letterhead by 1889.

Market day extension granted 1956.

A Berni Inn by 1975 -
featuring the Palm Court bar and the Staithe bar

Known as LLOYDS No. 1 from July 2002.