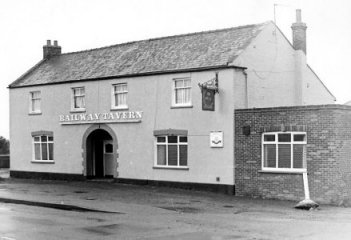 1975 image thanks to David Apps
©
Known as the
RAILWAY TAVERN
by 1903.
Rosanna Shine was committed to trial on Monday 23rd June 1851, accused of stealing a sheet and other articles from Mrs. Bond.
It was reported on 23rd April 1864 that Richard Wagg, carter and beer-house keeper had been charged with stealing 3cwt. 1qr. 19lbs. of linseed cake.
It appears that a waggon laden with oilcake had stopped at the house for half an hour before travelling on to Terrington. The said linseed cake was found to be missing upon unloading.
The teammen were initially arrested on suspicion of stealing the product but later released.
The premises of Richard Wagg were searched and a quantity of cake was found in a lumber room, covered with sacks, chaff and other articles.
Mr Wagg was apprehended upon the charge of either stealing or receiving stolen goods.
The jury found that he had not `stolen' or `received ' the goods but had `concealed ' them.
Since he had not been charged with concealing stolen goods he was acquitted.
Offered for sale by auction 30th April 1903. (Lot 6)
` Full licensed Public House, known as the Railway Tavern,
with Out-houses and Yard at rear, situate opposite the Manure Works,
and abutting on G.E.R. Coal Depot, now in the occupation of
Messrs. Hogge & Seppings. Rental £44.
Possession can be given on 29th September 1903 '

Purchased in 1903 for £1,010 by Mr H. R. Laird of Messrs. W & T Bagge