Licensees :
-
WILLIAM P FROWMOW (32)
*1851
ROBERT MUSK
*1861 - 1868
HENRIETTA MUSK
*1869 - *1879
ROBERT SELF
& farmer
*1881 - 1883
JOHN HARBOUR
1883 -1888
CHARLES HARBOUR
1890
JOHN THOMAS HARBOUR
1891
JOHN HARBOUR
1892
JOHN MURRELL
1896
WILLIAM GEORGE COLBY
1904
JOSHUA H DOUBLEDAY
1906 - 1908
Monday 18th June 1906 - Fine of 24s, including costs, for selling beer during unlawful hours on 20th May.
JOHN LINCOLN
1912 - 1915
GEORGE MARTIN MOORE
(Died 1941)
*1916 - 1939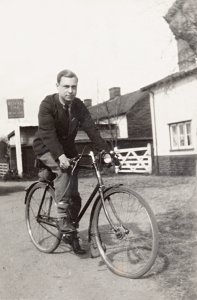 Lewis Buckingham at the Royal Oak c1936, maternal grandson of George Moore and grandfather to Lewis Buckingham who provided the photographs.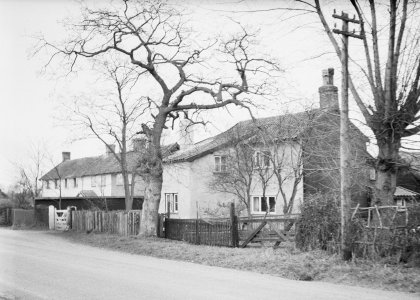 The closed Royal Oak photographed 1953.
Also given in directories under
ATTLEBOROUGH
Rebecca Musk reported the theft of one tumbler glass, the property of Henrietta Musk, December 1870.
20th December 1870 : John Carter, Nehemiah Carter and George Henry Denmark, all of Great Ellingham, were found guilty of the crime and each sentenced to fourteen days imprisonment, with hard labour.

(Mrs) H Musk is only identified in 1872 & 1877 directories as a licensed victualler, no name of house or location is given.

The reversion sold for £220 at auction Saturday, 8th September 1883, to Mr. Robert Self.
Although awarded a full licence in 1867, the house is only recorded under beer retailers in 1922.
On Friday 10th March 1939 the licence was transferred to the
NEW INN,
Watton.
The brewers confirmed that George Moore would be allowed to remain at the house, if he wished and would receive as much as if the house had been closed by compensation.
Alfred E. H. Lee, outside manager for Morgans Brewery, said that there would still be ample licensed facilities in Attleborough and there was another house about a mile from the Royal Oak. "If people have to go a mile for a drink, what is that? Quite a nice little exercise".
George Moore died in 1941.
His daughter Mabel continued living at the house until she passed away in the 1970's