Licensees :
WILLIAM BARRETT
age 72 in 1851
(Died Q3 1861)
1836 - 1861
PHILLIS BARRETT
(died Q1 1886 - age 86 ?)
*1863
ISAAC JOHN TANN
& farmer 10 acres 1871 - age 33
*1864 - 1872
ROBERT PURPLE
age 40 in 1881
by 1875
HENRY JOHN RUSSELL SMITH
31.08.1885
GEORGE REEVE
age 24 in 1891
08.07.1889
6th April 1892 - George Reeve, of Bawdeswell was sent to prison for three calendar months, having been found guilty of stealing 14 hens. Mr. Reeve described as a 25 year old pig dealer.
JAMES BUGDALE
Temporary transfer
16.05.1892
JAMES AUGUSTINE BUGDALE
& carpenter
age 40 in 1901
04.07.1898
to closure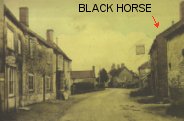 Lot No 35 in sale of REEPHAM Brewery Saturday 8th June 1878.
The property was then let to Robert Purple at an annual rent of £10/10/-
The property described as:
`A Beerhouse containing - Tap Room, Parlour and Cellar, Pantry and Wash House; Five Bedrooms; Stable adjoining with brick Wall fronting to road, Enclosing a Pightle of Productive Land in the rear. Garden, Yard etc.; The site being about 1¼ acres - Copyhold to the Manor of Whitwell late Symonds'.
Purchased by Bullards. Conveyed from Bircham & Sons to Henry Bullard and John Boyce 26 November 1878.