Licensees :
BENJAMIN CULLEY
1776
ROBERT MAYHEW
Went to LION & CASTLE, Norwich.
1777 to 1780
JOHN WOODS
1789 - 1796
Mr. RAMPLEY
Died July 1831
by 1812 to 07.1831
Mrs RAMPLEY
(Died 25th May 1850 - age 78 - For many years of the Globe, Blofield)
1831 - ?
DANIEL ELLIS
age 40 in 1841
Died Q4 1841
1835 - 1841
JOSEPH WARD
age 52 in 1851
& miller
1845 - 1851
JAMES KING
& post office
1851 - 1856
ROBERT JOHN CODLING
& assistant overseer
Age 43 in 1871
Died Q4 1875
1858 to 1875
SARAH ANN CODLING
19.11.1875
- 1879
WILLIAM RIX
age 50 in 1881
undated -
By 1881
CHARLES MARTINS
age 49 in 1891
08.05.1882
WILLIAM JOSEPH PERRY
06.05.1895
ALBERT RICHARD THOMPSON
age 25 in 1901
30.04.1900
THOMAS WILLIAM SETCHELL
24.11.1902
FREDERICK GEORGE GRIMES
06.11.1905
EDWARD REEVE
01.07.1907
EDGAR HENRY THOMAS HOWARD
11.01.1909
FREDERICK THOMAS BUCKINGHAM
died Q1 1911
08.11.1909
AGNES MARY BUCKINGHAM
age 50 in 1911
10.04.1911
HENRY GEORGE MEAD
22.05.1911
GEORGE WILLIAM PLUMB
06.11.1911
ALFRED PERRY
07.09.1914
SIDNEY GEORGE RUDD
19.05.1919
Fine £5 for permitting gaming - 19.12.1927
ROBERT WILLIAM CANHAM
died Q4 1934 - age app. 58
10.04.1928
ROY EVERARD
04.02.1935
JOHN ROBERT PROCTOR
22.12.1958
SYDNEY FREDERICK SPOONER
23.05.1961
TERENCE RALPH ARCHER
14.02.1972
JUDY & DOUGLAS ROY JACKSON
( `The last professional comedian to play in the old Windmill Theatre in the West End '....... Feb 1976 quote)
Also acting as Anglia Taverns Pub Grub Tutor 1975 - 1976
18.06.1973
-
MICHAEL NICHOLS
1980 - 1986
-
BYRON GREEN
1989
-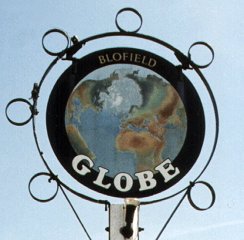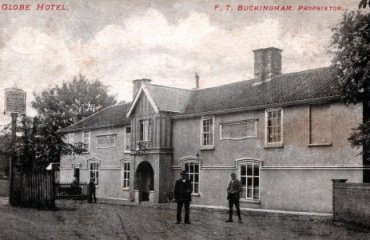 c1909 image thanks to Lewis Buckingham.
Frederick Buckingham is in the centre and his son Walter to the right.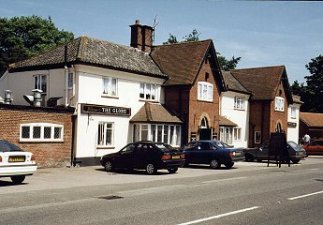 May 1998

Mentioned in Sylas Neville's diary 1772.

For Sale by Auction Wednesday 18th September 1776 together with Bowling Green, Hop Ground and large Garden adjoining. In occupation of Benjamin Culley.

~
17th April 1777, Robert Mayhew informed the Nobility, Gentry and the Public that he had entered the Inn and laid in a fresh stock of the best Port Wines....He had fitted up the rooms, and provided good beds for the Accommodation of Gentlemen on their travels.'

~
Recorded in Register of Blofield, Taverham & Walsham Hundred licensed houses taken 9th September 1789.

~
Advertised May 1780 as being available To Let, with Immediate occupancy, Mr. Mayhew having taken the LION & CASTLE, Norwich.
~

A new-built Dwelling-house, near the Globe Inn, was offered For Sale by Auction, at the Globe Inn, on Tuesday 15th September 1812. The dwelling then in the occupation of Mr. John Woods and Mrs. Crane.
The property could be shewn by Mr. Rampley, at the Globe.

~

The very complete Brewing Plant of Mr. John Brown was to be sold by auction here, on Thursday 2nd December 1824. The sale included a nearly new copper of six and half barrels with furnace and lead pump, plus 15 feet of lead pipe, tuns of 20 barrel and 3 barrel capacity, 135 feet of lead pipe, standing ale cask of 230 gallons, five stout puncheons, fourteen barrels, fourteen half barrels, casks, water cart, several dozen stone and glass bottles,,, etc.

~
On Monday 24th July 1826, to celebrate the addition of a sixth Treble Bell, by T. and J. Hurry, to the Grand Peal of Five Bells at Blofield, Twelve Pairs of of good Gloves would be awarded to the two Companies of Ringers who could ring the best 7020 Changes. The Companies could ring any Six-bell Peal that they should choose. The Gloves to be awarded at the Globe Inn.

~

Appears on Bryant's 1826 map.

Was a venue for the (extinct) sport of Norfolk Wrestling.
Had a famous bowling green to the rear.

~

James King, for many years Butler to the late John Penrice Esq. of Yarmouth and lately with Jack Petre, Esq. of Westwick House, announced 8th November 1851 that he had taken the Inn.
~

Advertised to Let September 1856 with possession from Michaelmas.
With two large Gardens and Land attached, with excellent Bowling Green.
Apply to Youngs, Crawshay and Youngs, Brewer, king Street, Norwich.

~

It was reported February 1906 that the Petty Sessions for the Blofield Division had been held at the Globe for over a century. This was to change from 26th February 1906 when the new Court-house would open. The magistrates thanked the brewers and tenants for their courtesy during such a long period and that the room used had always been free of charge.

~
Sales of 156 barrels of beer reported at First Joint Committee Meeting of Bullards and S&P, 29th May 1962, when NO CHANGE recommended.

Structural alterations carried out by Bullards and Sons to be completed 31st March 1967.

Extensively internally `modernised ' 1973 by Anglia Taverns
to `bring it up to modern needs.'
`To be one of the largest public houses in East Anglia.
To include a 70 seater restaurant, a spacious music lounge,
a Tudor Bar with 4 individual drinking areas with traditional furnishings
and displays of brass and copper bric-a-brac.'

For sale as private accommodation 12th April 1999
DEMOLISHED 05.11.1999