Licensees :
-
MARY LEARNER
1794
-
-
HENRY HODGE EARL
1836
ANDREW HODGE EARL
Died Sunday 24th April 1853 - age given as 61


Note : Craven records him here in 1856

1841 - 1853
GEORGE OVERED
& veterinary surgeon
1854
CHRISTOPHER WATTS
age 38 in 1861
At Marsham White Hart by 1868
1858 - 1866
CHARLES SMITH
1868 - 1869
THOMAS LANE
age 26
1871
WILLIAM RUST
(& machine owner 1877)
1872 - 1879
GEORGE DYE
age 34 in 1881
& farmer 1891
1881 - 1891
WILLIAM HARMAN
Died by Feb 1892
to 1892
EZRA DIXON
15.02.1892 - 1896
RICHARD DAISLY WOODCOCK
age 40 in 1901
1900 - 1901
ROBERT HOWLINGS
age 41 in 1911
1904 - 1912
HERBERT BAYFIELD
1915 - 1922
CHARLES DUDLEY MEACHEN
1925
JOHN MASON
13.04.1926
SIDNEY BROOME
09.05.1944
ALBERT EDWARD SHEARING
09.10.1956
HUBERT WILLIAM MITCHELL
09.04.1963
WILLIAM ROBERT BORDER
10.10.1967
JAMES CHARLES ALBERT ROLFE
08.10.1968
-
KEITH HENDY
undated
SUE & ADRIAN FAWKES
1982 - 1997
-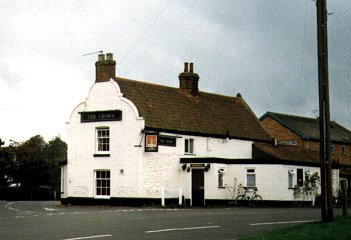 September 1996

Recorded in an award to Timothy Steward junior in 1824
Appears on Bryant's 1826 map.
Described in 1796 auction as `With a Room Let off as a Shop and a Yard and Stable to the same belonging, Copyhold to the Manor Of Buxton with the Members, Fine Arbitrary, Quit Rent 2/6½d'


Watney Mann (East Anglia) Ltd completed structural alterations 1st August 1970.
Signatures of WWII pilots, including Douglas Bader, painted over in refurbishment.

August 1986 observation:-
Separate lounge at back and c-shaped bar at front, probably once two rooms.

Observed to be closed June 2014.
(Planning permission to convert into residential dwellings had been granted in October 2013)