Licensees :
-
THOMAS COBBS
1789 - 1794
-
WRIGHT HARVEY
& tailor
age 43 in 1841
(died Q3 1855)
1836 - 1841
GEORGE CLAXTON
age 36 in 1851
& charcoal burner
(Died Q2 1868)
1845 - 1868
Charged of furious driving Monday 19th September 1864 - See opposite.
JAMES WRIGHT
& 1.5 acres
age 45 in 1871
1869 - 1879
EDMUND WHEALS
& gardener
age 49 in 1881
1881 - 1885
ROBERT LEVERIDGE / LEVERAGE
age 50 in 1891
1885 - 1904
JOHN JOHNSON (Jack)
age 39 in 1911
1908 - 1929
Mrs HANNAH JOHNSON
(Died Q4 1945)
1933
THOMAS WILLIAM CHAPMAN
1937 to 1959
JOHN THOMAS MIDDLETON
16.01.1959
ERNEST ABEL
11.03.1966
COLIN JOHN HANSON
(Brewery representative)
10.10.1969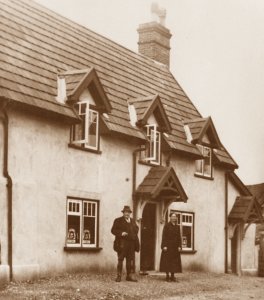 Mr & Mrs Jack Johnson c1920
(Note each lower window has the Bidwell's motif in leaded glass.)
Image thanks to the Carbrooke Heritage Group


Appears on Bryant's 1826 map.

At the Petty Sessions Monday 19th September 1864, it was heard that George Claxton had been observed sitting on the bottom of his cart, apparently the worse for drink, and driving at more that twelve miles per hour. In his defence he said that he had a restive horse and he could not hold it. On paying £1 5s in costs and expenses, the case was dismissed.

Licence referred at Watton licensing session held 2nd February 1910. - but renewed at Petty Sessions held Wednesday 2nd March 1910 where it was said that licensee Johnson was also a shepherd, consequently he was absent from the house practically all day. For two months of the year, he was absent at nights also.
The trade for 1907 was 33 barrels,
for 1908, 34 barrels and
for 1909, 37 barrels.
Spirit sales were 18 gallons for each year.
Mr. Johnson said that there were five harvest feasts held there annually and the Labourers Union met there every fortnight.
There was a memorial of support signed by 72 persons and the house had recently been completely repaired and done up, inside and outside.

Steward & Patteson report, prepared for Watney Mann June 1969 recommended immediate closure. It was reported that the house was `Off main street and hard to find.....Toilet accommodation dreadful and Sanitary Notice had been received from Local Authority'.