Licensees :
-
WILLIAM BROWNE
1790 - 1794
-
DAVID MORLEY
& auctioneer
& wheelwright
age 50 in 1841
1836 - 1843
WILLIAM LANSDELL senior
age 48 in 1851
& farmer 8 acres
(Married to Elizabeth who died Q1 1857)
(Married to Ann by 1861 who died Q4 1864)
Died Q4 1882
1845 - 1882
Mrs MARIA SPRINGALL
1883 - 1897
FREDERICK LANSDELL
age 33 in 1901
02.11.1897 - 1901
HERBERT BREEZE
1904 - 1910
THOMAS LEVELL
age 45 in 1911
(Wife Annie)
1910 - 1925
CECIL BREEZE
1929
S H RUDRUM
1933 - 1937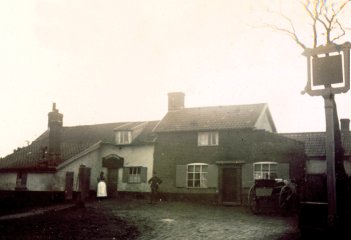 1897 image from the collection of the late Percy Rush.
Shown with permission

Shown on 1826 map by Bryant.
On Wednesday 10th August 1843, a devastating storm caused much injury and damage in the Norfolk. (23 other counties also suffered) A hemp crop, the property of Mr. Morley of the Adam and Eve, suffered massively.


Steward & Patteson records state sold 1934,
but same document says `Disposed of 1938/39 for the sum of £415'.

Spirit licence transferred 10.05.1938 to the
GEORGE & DRAGON, Sprowston 1938.