Licensees :
-
-
WILLIAM TOOK / TOOKE
(died 10.09.1801)
1780 - 1801
JOHN RUMBELOW
1830 - 1833
MARY RUMBELOW
1836
JOHN RUMP
Died Sunday 1st September 1839 following a `lingering illness' - age 26
1839
ROBERT WITHERS
age 31 in 1851
1845 - 1856
THOMAS ISBILLS
& farmer
1858 - 1875
Mrs SARAH ISBILLS
1877
JAMES PARKER
1879
THOMAS R BUSSEY
& farm 16 acres
1881
EDWARD THOMAS LOWE
& shopkeeper
* 1883
GEORGE STIMPSON
1885 - 1891
JOHN DAISLEY COLSEY
1892
RICHARD GAZE
1896 - 1922
GEORGE N FORD
1925 - 1933
CECIL JACK EAGLE
1937 to at least 06.1971
RAY WAKELEN
1976 - 04.07.2006
-
OS Grid ref 816151
Thanks to P.G.Martin for update 03.2002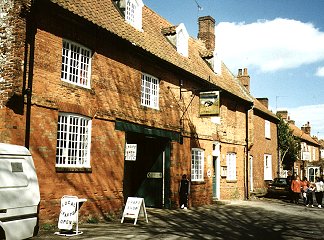 April 1997


16thC Coaching Inn.
William Took (wife Mary Gay) paid the Holkham Estate £30 10s 0d per annum for the Inn, `Dunstans Meadow', land enclosed at Bartholomew Hill and profits of the fairs.
As recorded 1789 & 1799.
Offered To Let, September 1894 with 14 Acres of Good Land attached - Apply Steward, Patteson, Finch & Co., Pockthorpe Brewery, Norwich.