Licensees :
-
......... ISWELL (Ifwell)
1781
MARY ISWELL
1789
THOMAS SMITH
1794
-
CHARLES COOK
1836
JAMES W LAND
1845 - 1846
CHARLES STEBBINGS
age 34 in 1851
1850 - 1856
Mrs PHOEBE EVERETT
1858
WILLIAM PARKER
Age 63 in 1861
1861 - 1865
CHARLES COOK
to 01.1868
WILLIAM PARKER
Age 73 in 1871
29.01.1868 - 1871
JAMES SELF
1872
CHARLES WATERMAN
& carpenter
1875 - 1881
JOHN CRISP
& traveling draper
1883
CUBITT COOKE
1885 - 1886
WILLIAM CUBITT COOKE
1888
Mrs MARY ANN COOKE
(John Cooke in residence 1915)
1890 - 1916
-
JOHN WARD
Died June 1925 - age 52
1922 - 1925
Mrs MINNIE WARD
1929
ROBERT ROWLAND CURTIS
1933 to 1954
LESLIE JAMES CATOR
20.08.1954
ROBERT ALFRED FRESTON
03.02. 1967
-
Ms AMRIT VIRDI
c1994
-
BARRY & CARRIE ACKRILL
November 2011
-
IAN & DENISE WARREN
October 2014
JENMMA DIMMOCK
(Sister of owner Paul Edwards)
March 2016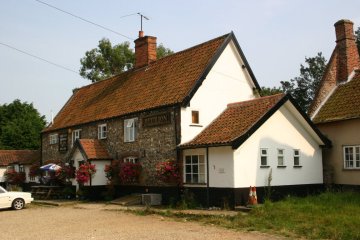 August 2004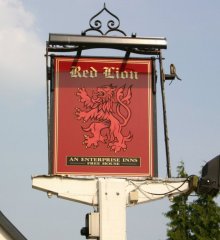 Offered For Sale by Auction Thursday, 29th November 1781, by order of the Assignees of Francis Hicks, a Bankrupt. <Assume this sale was postponed>
The Norfolk Chronicle of 1st December 1781 reported ...
To be sold at Auction, by Richard Bacon, By Order of the Assignees of Francis Hicks, a Bankrupt, on Thursday the 6th Day of December, Instant between the hours of two and five in the Afternoon, at the George Inn, Watton, in the County of Norfolk.
..... Lot 5
All that Public House, called the Red Lion, in Caston, in the County of Norfolk, with a Malthouse, and about an Acre of Land to the same belonging, now in the occupation of .....Iswell.
Rent in May 1837 was £7 10s per annum.

Closed October 2007......
Plans to convert into dwellings rejected by Breckland Council November 2009.
Revised plans to refurbish pub and create 2 new dwellings presented April 2010......
RE-OPENED 18th NOVEMBER 2011