Licensees :
-
MARTIN CRANE
1794
-
-
GEORGE WATTS
age 50 in 1851
1836 - 1863
EDWARD HAMMOND
Age 45 in 1871
(Died Q3 1871)
11.10.1863 - 1871
Mrs MARY ANN HAMMOND
Age 65 in 1891
1871 - 1896
ROBERT HENRY SPINK
& baker, corn, flour & pollard merchant.
Chairman of Parish Council
& Working Mens Conservative Association.
Age 38 in 1901
1900 - 1904
JOHN ROBERT RUDD
Age 38 in 1911
1908 - 1916
HERBERT HAMMOND
1922 to 1939
HERBERT EDWARD COPEMAN
02.10.1939
AMELIA DORIS COPEMAN
03.02.1941
HERBERT EDWARD COPEMAN
20.05.1946
FRANK WING
08.12.1952
DOUGLAS ALBERT BROWN
27.02.1956
to at least 1974
-
FREDDIE & LINDA PACKHAM
by 1995 to 04.1996
MARIE & TERRY DOW
04.1996 -
-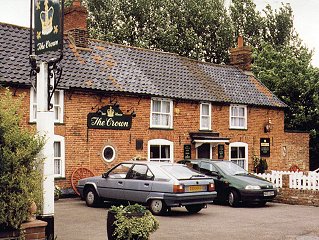 1999


Advertised for sale 3rd September 1785 including One Acre of Land.
Lot no. 50 in sale by auction 14th to 17th September 1841 of the Coltishall Brewery. Copyhold sold to Mr. Unthank for the sum of £920.

The Entire Household Furniture, Beds, Bedding, Glass, China, Dairy and Kitchen Requisites, a very handsome Bay Pony, neat Pony Cart, Harness, small timber Jill and various Hand Implements, plus a small quantity of Oak Timber, &c., &c., the property of Mr. George Watts, were sold at the Crown Inn, Friday 9th October 1863, since he was retiring from business.
Temporary closure 1997 - Reopened May 1998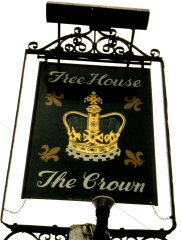 1999