Licensees :
THOMAS SAVAGE
1830
ROBERT HIPPER
age 60 in 1851
& butcher 1858
1836 - 1859
Fine of £2/10/- plus 10/- costs 17th May 1845 for running a disorderly house.
THOMAS READ
& pork butcher
age 39 in 1861
age 50 in 1871
1861 - 1871
WILLIAM JERMY
& butcher
(died Q4 1889)
1871 - 1889
exors of WILLIAM JERMY
1890
ROBERT LOWE
age 51 in 1891
(died Q2 1895 - age 58)
1891 - 1892
WILLIAM CULLUM
died Q3 1911 - age 52
by 1896
Mrs EMMA CULLUM
21.10.1911
JOHN WELLS THURSTON
22.11.1913
FRANCIS WELLS THURSTON
17.07.1920
HARRY ALBERT HOWARD
24.06.1933
BERT HARRISON
15.11.1952
- 1967 +
-
KEITH & MICHELLE LOCKE
1996 - 1999+
-
DAVID MILLER
2006
LYNN LOADER
(sister of Nick & Steve Carrigan)
by 2008
STEVE & SHARON CARRIGAN
by 2010 - 2015+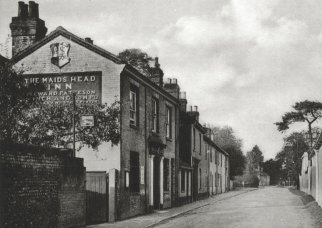 c1920
17th May 1845 : Robert Hipper was said to have suffered drunkenness and disorderly conduct. Mrs Hipper appeared to face the summons. The constable stated that on 4th May 1845 there were a number of `blackguards' in the house, among them Jem Perowne, the fighter, who wanted to fight Hipper or his son. The latter had `stript to fight ', and other parties in the house were drunk. Mrs Hipper said here house was well conducted; but the facts were proved.
The inquest into the killing of Eleanor Howard was held here 3rd November 1908.
On the evening of 29th October 1908, Horace Larter had stabbed Miss Howard three times.
At trial, Larter admitted his crime and was sentenced to death, but this was later commuted to life in prison.