Licensees :
JANE NEWMAN
age 35
1841
JOHN HOWES
& carter
(age 41 in 1851 & machineman
- no mention of beer)
1845 - 1861
MARY HOWES
1863
ROBERT MANTHORPE
& blacksmith
age 50 in 1871
*1864 - *1872
SAMUEL DAVIDSON
& bootmaker
age 37 in 1881
(Samuel Davison 1888 )
*1875 - *1888
HERBERT KEELER DAVIDSON
& carpenter
age 28 in 1891
1890 - 1892
SAMUEL DAVIDSON
(Davison 1904)
age 58 in 1901
*1896 - *1904
ARTHUR WILLIAM HOLMES
age 39 in 1911
1908 - 1911
WILLIAM MARK KNIGHTS
by 1912
ELIZA DEVOLL KNIGHTS
07.06.1927
JAMES EDWIN KNIGHTS
16.12.1947
........... RANDALL
to closure

Said to have been originally called the PLOUGH LIGHTS
after the lights kept burning in the west arch of the Southgate Church, on the screen known as the Plow Rood.
~

For sale by auction Tuesday 24th July 1860 with Possession at Michaelmas. Beerhouse with Orchard and Garden containing 0A. 2R. 11P. In occupation of John Howes at annual rent of Twelve Guineas.
~
Sales (in final year of trading?) given as
22 7/8 barrels of beer.

Licence surrendered.
~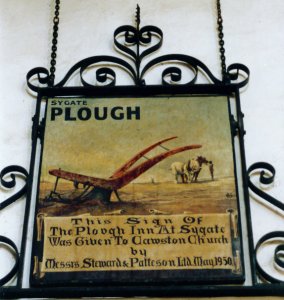 After closure, the inn sign was given to Cawston Church.
The church had a Plow Guild which would have met at the inn.
An inscription in the church dating from the early 16thC reads :-
God speede the plow
And send us all corn enow
our purpose for to mak
at crow of cok of ye plowete of Sygate
Be mery and glade
wat Goodale yis work mad.