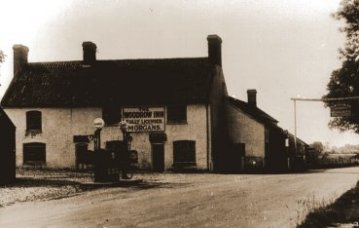 c1930
Site of a duel 21st August 1698.
Sir Henry Hobart fell mortally wounded by Oliver Le Neve.
House dates from 18thC.
Cawston Sheep Shew held here 25th August 1756, 28th August 1776, 30th August 1780 & 19th August 1781.
Mary Hardy mentions breakfasting and drinking tea here in 1783 and dining here in 1787.
Offered To Let from 10th October 1785
`That old and well accustomed house known as
WOODROW HOUSE
...with these premises, lately rebuilt and made very commodious, will also be lett about 70 acres of inclosed Arable Land near the house, and a Barn on the Farm. The Land has been in a regular Course of Husbandry, and is in good Condition. '
~
All the Farming Stock, Implements of Husbandry, Brewing and Dairy Utensils and some Household Furniture of Samuel Norton, Cawston Woodrow, were to be sold by auction Wednesday 9th October 1793.
~
Labourers seeking higher wages held a rally here in 1790.
Shown on Bryant's 1826 map.
William Eke informed his Friends and the Public that the Annual Show for Sheep, Wool, Neat Stock, Horses, &c. would be held on 26th August 1829.
Named
WOOD ROW
in Pigots 1830 directory
October 1835 - The Trustees ordered the sale of all the Mares, Cart Horses, Harness Mare, Cows, Homebreds, Young Sok (?), Swine, Agricultural Carriages, Implements and Harness, Household Furniture, Linen, Glass, China, Dairy and Brewing Utensils, at Cawston Woodrow, the premises occupied by Mr. John Chapman.
Mrs Mary Ann Elizabeth Arnold issued a rent demand 2nd April 1886 to Albert Edward Woodrow, living in adjoining cottage and running a blacksmiths shop.
A notice to quit was also given.
£6 was due for the year to October 1885 and a further £12 was due October 1886 for the Shop and Cottage. The rent (or lease) on the Beerhouse was given at £30 per annum. Note that the house was stated to have a 6 day licence.
In 1935 it was recorded that there were two curious trees growing near the bowling green...
Both produced twigs bearing leaves of three formations,
oak, beech & hornbeam.
Closure agreed at the First Joint Committee Meeting of Bullards and S&P 29th May 1962.
Sales given as 30 barrels of beer.
The tenant was said to be 64 years of age and to have been at the house for 17 years.
House closed and premises sold.
De-licensed 16th April 1963.