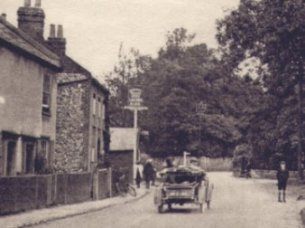 c1925


A Freehold Beer-shop and Cabinetmakers premises for sale by auction Saturday 13th September 1856.
Described as in the centre of Coltishall Street, but within the parish of Great Hautbois.
The Executors of the late Robert Hallock instructed that the Household Furniture and Trade Effects be sold by auction on Wednesday 29th October 1856.
The items included, a large quantity of coffin boards, gate posts, ash, elm, beech and other planks, a small timber jill, two luggage carts, harness, a capital donkey, benches, lathe with 9ft bed, vice, pit saws, &c. Furniture included tables, four-post, French, tent and Arabian bedsteads, six goose featherbeds, chairs, &c.
Publican Charles Smith was summoned on Saturday 30th August 1890 for an alleged assault on Thomas Maggs the younger. Maggs apparently owed money and upon a meeting at Horstead, 10/- was offered towards the debt. Not being satisfied, Smith was said to have hit Maggs on the head with a stick. Several blows then followed between them. Smith claimed that he had been hit first. With two witnesses supporting the latter claim, the case was dismissed, with each party having to pay his own costs.
Renewal of licence objected to, Tuesday 7th February 1905, on the grounds of redundancy.
It was said that the tenant, Mr. Smith, age 62, had been at the house for seventeen years without complaint. If the licence were to be refused then he would have nothing to go to and would only receive a small portion of any compensation allotted.
Temporary licence granted and licence referred to the Licensing Committee.