Licensees :
WILLIAM GEORGE TYRELL
(Representative of the Brewers)
01.09.1936
WILLIAM HERBERT BARNEY
Died Q2 1948 age 48
13.10.1936
ROSA BARNEY
04.05.1948
NORMAN MacDONALD CRAIG
09.11.1948
KATE MAY CRAIG
15.07.1952
ARTHUR WILLIAM EASTON
06.10.1953
ROBERT LAW
16.11.1954
PERCY EDGAR RUSH
18.04.1972
JOHN O. BROWN
21.11.1972
PERCY EDGAR RUSH
02.04.1975
JOHN W G SHIRLEY
10.06.1975
PAUL DAVID TAYLOR
22.11.1977
PERCY EDGAR RUSH
20.11.1979
JAMES NICHOL
07.10.1980
TONY STUBBS
09.02.1982
MICHAEL NICHOLS &
PAUL ANDERSON-CARLES
11.06.1983
RICHARD CHARLES CLARKE
11.09.1984
ALAN ROWELL
14.05.1985
MICHAEL SPOONER
30.10.1990
KEITH HARPER &
DONALD McCALLUM
08.01.1991
CHRISTOPHER PAUL HILES &
DONALD McCALLUM
04.02.1992
VICTOR THOMAS HILES
28.09.1993
MARK RANDAL DONAGHUE &
BELINDA DONOGHUE
08.12.1988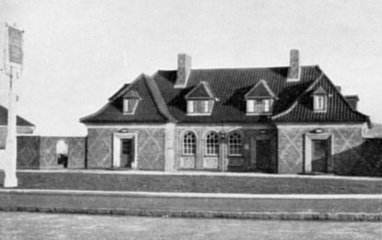 1936

Licence of the TIGER - Norwich transferred 1936.


Trading under the banner of
Mrs FARROWS BETTER HALF 1983 - 1985
Believed to have specialised in a Fish & Chip menu.

A popular music venue from 1991.
Known as the OVAL ROCKHOUSE.
The final music played in May 1998.
Chris Hiles, a one time roadie for Iron Maiden, promoted several hundred bands during his time at the house. (1991 to 1998).
One such group, the `Nodding Donkies', were in fact Iron Maiden in disguise. In April 1998, to say farewell to the music venue, Iron Maiden appeared again, this time under the name of `The Angel and the Gamblers'.
Purchased by Wizard Inns 1997 and closed May 1998 for substantial refurbishment. Reopened November 1998 as the
WAGGON & HORSES