Licensees :
-
-
PHABA MASON
1792
RICHARD JOHNSON
1795 - 1799
GEORGE BELL
Died 5th July 1822 - age 55
1822
MARY LANGHAM
1826 - 1836
JOHN WILLIAM MASON
1836
JOHN MIDDLETON
1839
WILLIAM TURRELL
Age 30 in 1841
(Still listed as licensee in Slater's 1850 directory)
1841 - 1846
GEORGE WATTS
age 31 in 1851
1849 - 1856
BENJAMIN BRADFIELD
1858 - 1861
DENNIS GOODMAN
1862 - 1865
THOMAS GRAY
(Still here January 1868)
1865 - 1868
WILLIAM MACE
1868 to 1875
HENRY AMIS
05.07.1875
ARTHUR CRISP
See opposite.
24.09.1884
FREDERICK CRISP
20.03.1911
FRANCIS GEORGE TOVELL
31.01.1927
HAROLD REANEY
06.01.1947
HOPE & LEONARD MOORE
15.11.1973
GEOFFREY DODDING
08.01.1976
CLIFFORD JAMES PYE
26.02.1976
EDWARD HARRY WIDDOWSON
20.05.1976
JOHN GROOM
undated -
retired in 1990's
-
-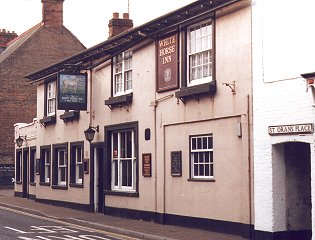 October 1999

Land `formerly belonging to the White Horse ' is recorded in the rates list of 1767 but no reference is made to the house in the 1789 to 1790 Alehouse Recognizances.

For sale by auction 7th September 1836 with possession from 11th October 1836.
"That old-established Inn in the fashionable bathing-place of Cromer. With good stables, yard and other conveniences."
A commodious Fish-house, Cottage and adjoining Blacksmith's Shop also included in the Lot.

Benjamin Bradfield announced 10th July 1858 that he had taken the long-established Inn and had it thoroughly refurnished, having galleries of sleeping accommodation enclosed, rendering it complete with every comfort for the accommodation of Commercial Gentlemen or Small Families visiting the delightful coast........

On Thursday 23rd August 1888 members of the Reepham and Whitwell Church Choir, together with children belonging to the Church Sunday School, a party of between 80 and 90, had their annual outing to Cromer. A bountiful dinner was provided in a marquee on the grounds of Mr. Crisp's White Horse Inn. Unfortunately it rained in the afternoon, so the party returned home earlier than anticipated.


Licensee Arthur Crisp was accused at the Guildhall Sessions, Norwich, Monday 18th November 1892, of an assault on cab proprietor Christmas Lark. On the previous Saturday Crisp had pushed Lark aside and upon being questioned why, he had struck Lark on the head with a stick. The assault had taken place outside the Punch House, Market Place, Norwich and was apparently caused by a misunderstanding regarding the closeness that the cab proprietor had tethered his donkey to Mr. Crisp's horse.
In view of the provocation, Crisp was dealt with leniently and only inflicted with a fine of 10s.


Leased by Emma Watts to Morgans Brewery for 21 years from 28th October 1892.
Parties with interest in the property are given as :-

Mary Cooke 15th September 1893

William Watts 17th January 1894

Offered for sale by auction at the Royal Hotel, Norwich on Saturday 6th May 1893. ` That important property.... Situate in West Street, let to Morgans Brewery Company on lease for a term of 21 years from the 11th October 1892, at a yearly rent of £98......... The tenants paying for all Repairs and Insurance, and thus forming A FIRST CLASS INVESTMENT. The premises comprise, on the Ground Floor - A Bar, Smoking Room, Bar Parlour, Private Sitting Room, Cellar, Kitchen, Pantry, Storeroom, &c., Front & Back Staircases, and WC. On the First Floor - Club Room, Sitting Room, and 10 Bedrooms, and WC. In the Yard, approached from the Street, are Stable, 2 Loose Boxes, Slaughter House, and Pound, Closets, etc. This Property is situate on an important main street leading to the Eastern and Midland Railway Station, and must always command a high rental as a business situation. Tenure:- Copyhold to the Manor of Felbrigg.''

Sold by the Trustees of John Brown
to Benjamin Cook 25th January 1894
(& ?)
Margaret Claxton Sykes 25th January 1894

Benjamin Cook 23rd November 1897



Sold by the Trustees of Benjamin Cook to
Arthur Humfrey Mason 5th October 1912.

Morgans sales for 1960 were :-
218 barrels of beer
94 spirits.