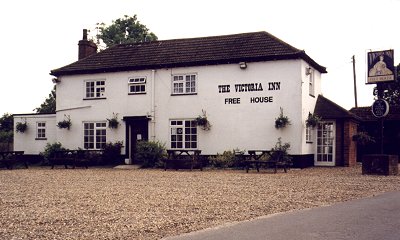 July 1997
Richardson Baker was taken to court by bricklayer James Lovett, Friday, 8th August 1862. A debt of £2 16s 5d had not been paid by Baker who said Lovett owed £1 14s 10½d for beer and tobacco supplied between 25th December 1860 and 20th February 1862. His Honour ordered that the difference between the two claims be paid immediately (with costs) since neither party could prove the other wrong.
Lot No 1 in auction Friday 25th September 1903, upon the instruction of Mr William Gathergood.
A Freehold INN or BEERHOUSE including, Parlour, Bar, Cellar and 4 Bedrooms, plus Clay and Tile Lean-to including Kitchen, Large Club Room and Dairy, plus approximately 2 acres of Land.
(Lots 2 & 3 were plots of land, each just over 2 acres).
The lot was purchased by Bullards and letter dated 26th September 1903 states that the proceeds of the sale would be expected to go towards settlement of Mr Gathergoods debts (To Bullards).
A shop & Post Office operated from a back room in the 1930's.

Post Office facilities re-established February 2000.

Observed to be closed and boarded up 24.01.2009
Plans to convert main building into dwelling and the restaurant into an office were published at end of October 2010.