Licensees :
-
THOMAS BODDY
1778 - 1779
?
1782
ROBERT SLEGG
1790 - 1794
JOHN SLEGG
(John Slagg 1839)
Died Tuesday 6th April 1841
1830 - 1841
ANN SLEGG
age 80 in 1861
Died Q1 1863
1841 - 1861
ROBERT BROWNE
1863 - 1866
ROBERT DAVEY MILLER
1868 - 1879
WILLIAM BARFORD MAHON
& farmer
(Died 15th May 1914 - age 62)
*1880 - 1908
JOSEPH LAIT
Died of bronchial asthma 10:30 am on Monday 31st January 1910.
Buried at Sawbridgeworth.
31.08.1908 - 1910
GEORGE FALCONER WALKER
1911 - 1914
HENRY EVERITT
1916 - 1933
WILLIAM JACOBS
1943 to 1952
GEORGE HENRY SMITH
15.08.1952
STANLEY CHARLES LEVERETT
(b. 19.06.1913 - d. Q3 1978)
11.01.1954 - 19.12.1972
MEINA & TOM SKILLINGS
12.1972 - 06.1982+
TOM & CAROL SKILLINGS
by 12.1984
-





An auction was held here 31st October 1782.
The estate of Wacey Dunham being sold off due to his bankruptcy.

~

In 1830 :-
The Brancaster based carrier, Mr Fiddleman called at the Hare and at the Plough every Tuesday and Friday at 11.00am on route to Kings Lynn. Carrier William Howard called every Monday and Thursday on the same route.
Francis Pointer, from Thornham, called every Monday morning on route to Norwich. Cornelius Bull from Brancaster did the same journey every Tuesday Morning.

~

Labourers James Wagg of Great Bircham and Thomas Hudson of Docking refused to quit the premises on 10th April 1868. Charged by Police-constable Seily of being disorderly, they were each fined 5 shillings with 6 shillings 6 pence costs.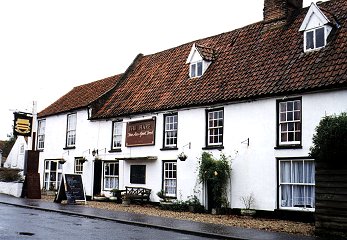 October 1998


Offered for sale by auction 18th March 1779, then in occupation of Thomas Boddy.

The Docking Association for the Protection of Horse-stealing, Felony and Grand Larceny met here 26th March 1792.
Shown on Faden's 1797 map and on Bryant's 1826 map.

The cellars have been used as a jail.

Advertised in early 1900's as a Commercial Hotel & Posting House.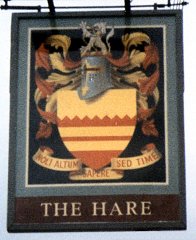 It was reported Friday 12th December 1913 that Mrs. Walker had, in the last few days, pulled a plate of ripe raspberries in the garden of the Hare Hotel, and also gathered a bunch of rambler roses.

The Household and Hotel Furniture of Mr. G. F. Walker was to be Sold by Auction, Wednesday 1st April 1914 since he was relinquishing the business.


In Good Pub Guide 1998

Morgans sales 1960 were -
Barrels of beer, 155
Spirits, 21


Converted to `Apartments' by 2006