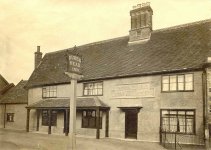 Image supplied by Camille McCain
25th January 1867 - Labourer Robert Baldwin and bricklayers James Baldwin, Edward Baldwin and John Baldwin were all committed to Norwich Castle for seven days, in default of paying fines and costs of 20s each, for refusing to quit the premises when requested to do so, by landlord John Sayers.
The licence of Mr. Beckett was renewed October 1868 in spite of unfavourable reports. The police stated that conduct had been better lately and so the licence was renewed but with a caution.
It was reported 8th March 1873 that shoemaker William Fyeur(?) had been committed for twenty-one days, having made a brutal assault on landlord William Hadingham. He received an extra sentence of seven days for being drunk and refusing to quit the public house, in default of paying the fine inflicted.
For Sale by Auction Thursday 4th December 1902, with Large Yard, Stabling, Cartshed and other Buildings and a large Productive Garden; also a Cottage adjoining.
Possession from 6th January 1903.
Closure date to be determined, but no licensees found after December 1955 when a representative of Lacons Brewery was granted the licence.